This course covers the importance of food safety practices, including food hygiene, handling and temperature control. You'll learn how to identify critical control points and implement them into your daily activities from home to the working environment. In addition, this course will cover cross-contamination, waste bin management, pest prevention and personal hygiene. Help to do your part in the community and register today.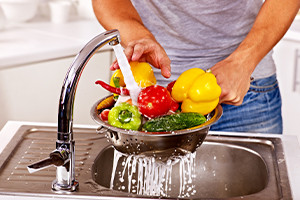 Duration

1.5-3 Hours

Accreditation

CPD
Description
Food safety and hygiene are the fundamental foundations for proper food handling. It is a good practice involving preparing, handling and storing foodstuffs so that they are free from contamination, protect consumers' health and ensure that the food we eat is satisfactory. This course covers the importance of food safety practices, including food hygiene, handling and temperature control. You will learn about the 'use by' and 'best by' labels that appear on food items, indicating when you should consume that food item. We explore personal hygiene, safety practices and hygiene in a food preparation environment. Understand the various temperature ranges in which bacteria can thrive in food and how to prevent the spread of bacteria by preserving and storing food in the best conditions.
We live in a time when personal hygiene and understanding the consequences of transferring and cross-contaminating are more vital than ever. This course provides a detailed breakdown and usage of sanitisers, disinfectants and detergents. A person will benefit by extending this knowledge to family, friends and the broader community. Taking the necessary precautions will mean prevention. Isn't it good to know that learning an everyday life skill can impact many other people along the way? From ensuring hair is kept away from the face to being aware of any jewellery or accessories that could potentially obstruct food handling. How about making sure you wear appropriate footwear? Did you know that slips, trips and falls are caused by unsuitable footwear, wet surfaces, worn carpets or loose cables and wires? As you can see, this course goes beyond the standards of food safety and hygiene, giving you a variety of precautions to consider. 
We will delve deeper into good food safety practices and examine the importance of Hazard Analysis Critical Control Points (HACCP). Learning the importance of identifying any HACCP will help you develop a food safety management system that contains all policies and procedures for maintaining food safety. The golden rule is simple: keep out of danger by keeping food hot or cold. This course will break down what temperatures apply to this rule. We will show you appropriate waste bin management and even pest prevention. Learn and use the suggestions to keep pests at bay, from storing food securely in containers to conserving the environment. This course is for everyone, and there are no prerequisites. Do you know that cross-contamination can be bacterial, physical and chemical? Learn the difference and so much more by enrolling today and sharing the good news with others who can do the same. Why wait? Join today and spread the word.
Start Course Now