Google SketchUp for 3D Modelling
Learn the fundamental tools of Google SketchUp, the 3D drawing software program, and get great tips for 3D modelling.
Publisher:

Google
This free online Google SketchUp course course will introduce you to 3D modelling with Sketchup. This course will teach you to turn product ideas into 3D models, design your ideal home, or create beautiful and interesting artwork. 3D modelling can be made complicated by complex terminology and software, but with this course, and with Google Sketchup, 3D modelling becomes simple, easy-to-do, useful and enjoyable.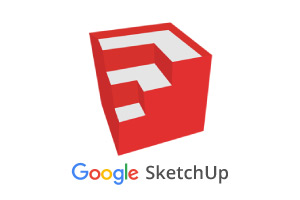 Duration

1.5-3 Hours

Accreditation

CPD
Description
Google SketchUp is a free online 3D modelling program designed for architects, civil and mechanical engineers, and graphic artists involved in filmmaking and game developing. The course introduces you to Google SketchUp's basics, starting with its navigation tools. You will then be shown how to create a simple house with a few drawing and modification tools. The course then gives you some great drawing tips to help you accelerate your work process and create more detailed models.
You will then be guided through the essential follow-me and offset tools. You will also be shown how to copy objects, paint surfaces, and use the push/pull tools and the tape measure tools to create reference edges. Finally, you will learn how to bring in additional models from the Google 3D Warehouse so that you can build more complex designs. Throughout the course, all lessons are designed to be as simple and easy as possible.
No matter what your skill level, this is an ideal introduction for both professionals and students who want to learn more about Google SketchUp or 3D modelling in general. By the end of the course you will have made 3D models on the program and will understand all of its core tools. These skills will strengthen your résumé and give you the ability to turn any image in your head into something people can see and understand. That's a great reward for a course that only takes 2 hours. So why wait?
Start Course Now
Need Some Help?
What are the best free online Google SketchUp courses?
How much does an online Google SketchUp course cost?