Gender Discrimination in the Workplace
Investigate the origins and causes of gender-based bias and the actions taken to combat it in this free online course.
Publisher:

Robert Klonoski
This free online gender discrimination course details the key issues and concepts surrounding gender equality and discrimination in the workplace, through a careful study of societal structures and gender ideologies. This course examines topics including legislation on human rights, collective bargaining in workplaces, cultural roles, wage compression and the gender pay gap, highlighting how conscious and unconscious bias can impact us all.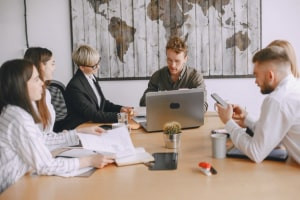 Duration

3-4 Hours

Accreditation

CPD
Description
The course begins with an introduction to gender discrimination in the workplace and an examination of the gender pay gap, dissecting global statistics, and drawing insights from them. This course further discusses labour force participation, where it points out the bias in job availability based on gender stereotyping, as well as the comparative educational disadvantages that women experience in certain societies. Have you ever wondered why women are still far less likely to be in a position of leadership than men? This course analyzes recent statistics in a bid to find out why. In the first module, the course touches on gender ideologies and social role theory, giving an overview of the topics and pointing out the role of social interactions as a major player in gender discrimination. It further clarifies the misconceptions of 'sex' and 'gender', and the basic concepts of 'collective bargaining' and 'market forces' are discussed. With regard to collective bargaining, some of the conditions to consider for paid parental leave, as well as its importance, are highlighted. In the first module, you will also learn about the factors associated with gender equality in any society, which includes national and international legislation, and cultural roles for women.
In module two, you will learn more about the topic of legislation by reviewing the legislative constructs of a representative sample of countries and assessing the impact of these systems, specifically in the context of the cultures in which they are applied. You will look into the legislative systems of nations like the United States, India, China, Brazil and Russia, and how their separate laws approach the issue of gender discrimination in the workplace. The legislative articles of the European Union on gender equality and pregnancy in the workplace are also explained. You will learn about 'global cultures', the concept of a 'cultural identity' and how these affect gender discrimination. Finally, in the third module, you will learn about parental leave and collective bargaining in-depth, and discover the International Labour Organization's (ILO) guidelines for such bargaining. Additional topics include wage regulation, wage compression, minimum wage laws and the supply of female labour.
Virtually all industrialized nations have passed equal pay and equal opportunity legislation but research has shown that women earn less than men and that women are less likely to be in positions of leadership than men. Legislative systems have been designed to enforce gender equality in the workplace so why does the gender pay gap still exist? Although there are accompanying international laws opposing gender discrimination, statistics suggest that gender discrimination is still pervasive in the world today. Worldwide indices point to a gender wage gap of at least 13% to 15% according to a 2020 report, which puts a question mark over the effectiveness of the relevant legislative systems. A lot of the problems that arise can be attributed to a lack of awareness of this issue, particularly for national governments and employers. There is a growing need for businesses and employers to adopt and enforce a gender-equal approach to their organizational processes in order to help foster gender equality and support their governments in the fight against the subjugation of women. This free online course provides an excellent grounding in the topic of workplace gender discrimination. Enrol now and you can begin studying today.
Start Course Now