Fundamentals of Employability
This free online course will help you with the process involved in applying for a job, including interview preparation.
Publisher:

NuYew
This online course will help you acquire new skills that will help you on your path to employment. You will learn why the term "employability" is becoming increasingly important in the world of work. You will study how you can improve your attitude and properly transmit your skills to employers. Additionally, you will learn how to give feedback effectively and how to act professionally in an interview situation.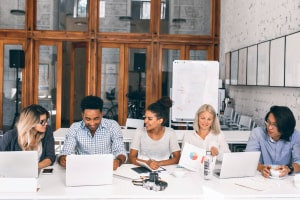 Duration

4-5 Hours

Accreditation

CPD
Description
This free online course will teach you how to highlight your skills and abilities in a job interview. You'll study the different worker profiles employers are looking for, including the ability to perform a variety of customer service and care tasks in different settings. You will learn which employability skills are "service-oriented" and why communication and social skills are becoming increasingly important outside of traditionally customer-facing roles. Then, you will learn how you can become the best candidate for a certain position in terms of competitiveness and talent, being aware of your abilities and developing both strong and weak areas. Later, the course will introduce you to the historical fundamentals of employment. Do you have the right skills listed on your resume? This course will talk you through building your resume and the skills you need to have for an employer to take notice. Then, you will learn about email etiquette when writing an email for a job vacancy. You will be shown how to fill in an application form and what you need to do to be selected for a job interview. Finally, you will see how you can secure a job within an interview and the steps you should follow to achieve this.
In the second part of the course, you will learn in detail how to acquire and improve the communication skills necessary for a job interview, this will be done through practical examples that will allow you to improve your abilities for the position you want to obtain. In addition to this, you will also learn about career development, its importance and the skills and qualities necessary to progress professionally. This will be done through a practical example of the routes through which you can develop within an organization according to your interests and aspirations. This course will show you some of the practical skills employers are looking for in any job opportunity. You will learn how to change negative behaviour, effectively reinforce positive behaviour and develop professional or social contacts through genuine relationships. You will study the benefits and advantages of professional contact networks. To be of interest to employers, you must be able to work well with technology since every job today requires a basic understanding of computers and applications. This course will help you learn the basic skills you need to work with ever-changing technological advances.
In the third part of the course, you will study the concepts of equality and diversity and how they can be applied to the workplace. This will include the ethical principles on which the organizational and work world is based. You will learn about some of the good practices, procedures and policies necessary to incorporate into the heart of any company. You will learn about discrimination in the workplace and the areas that you are protected as an employee. You will learn the importance of recognizing and valuing the different backgrounds, skills and experiences of people in terms of creating a cohesive community and a highly efficient and effective workgroup. In the final part of the course, you will learn about the importance of the ability to work as part of a team and how this ability is linked to customer service. You will study how this skill will help you meet and keep clients in the long term. This course is for those who are looking for work and would like to know how to improve their skills and performance within the workplace to achieve better professional development.
Start Course Now