Diploma in Sales Management
Join 21,580 other students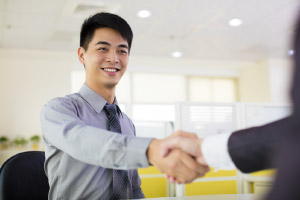 Free Course

10-15 Hours

Assessment

Certification

250 Pts
Learn about the principles, practices and tools involved in all aspects of the selling process by studying the course Diploma in Sales Management. The course begins by introducing you to the role of sales in everyday life and how selling is vital in all aspects of business. You will learn how Internet-based tools, such as forums, social networks like Facebook, MySpace, and Twitter, along with web sites, live chat and other interactive features allow customers to participate in the modern sales process.


You will learn about customer relationship management tools and how they are used to organise all of a customer's interactions, as well as adaptive selling, which allows you to listen to customers, understand their needs, and adapt your conversation and presentation accordingly. The course then introduces the role of ethics in sales and business. You will learn about the application of ethical behaviour in a business environment and how ethical businesses abide by laws and appropriate regulations. The main factors in relation to customer prospecting are covered in detail. You will learn about the tools used, such as direct marketing and cold calling, as well as the pre-approach, a critical step that helps you earn the customer's trust.

You will learn about the sales approach and the six Cs, which will help you make a good impression when you contact your prospect, as well as techniques like preparation, research, establishing credibility and customisation of the sales approach to the individual customer. You will gain an understanding of the main types of objections that you may encounter in sales and the six strategies that can help you handle virtually any objection. You will also learn about the process for preparing your sales presentation, how you can stay focused on the outcome and how to adapt your presentation to your prospect's needs. Finally, you are introduced to entrepreneurial selling, and how to research the viability of a business idea by identifying the size of the market to determine if the idea is compelling enough to meet a need.

This diploma course will be of great interest to learners who wish to gain employment or start a career in the sales sector, as well as professionals working in sales and entrepreneurs interested in starting a business.

Having completed this diploma course you will be able to: - Explain the role of selling in everyday life and in the economy; - List the characteristics of a brand; - Identify the differences between sales and marketing; - Explain the characteristics required to be successful in sales; - Define the different types of selling channels and selling environments; - Explain the concept of adaptive selling; - Explain ethics and ethical behaviour in sales; - Explain the elements of effective business communication; - Explain the role of the seven steps of the selling process; - Define the role prospecting plays in the selling process; - Identify resources to use when prospecting; - Describe how to identify prospective employers; - Discuss how to identify sales needs and opportunities; - Learn how to set SMART pre-call objectives; - Explain the role of first impressions and the importance of a strong approach; - Explain how to make contact with your prospect; - Prepare for a sales presentation; - Discuss how to dress for success for a sales presentation; - Deliver your message in a powerful and effective way; - Define SPIN selling and how to use it during the sales presentation; - Explain how overcoming objections can strengthen a relationship; - Explain the different types of objections and how to handle them; - Define the common objections you may hear in a job interview and the best way to respond; - Explain how entrepreneurs sell themselves and their business ideas.

All Alison courses are free to study. To successfully complete a course you must score 80% or higher in each course assessments. Upon successful completion of a course, you can choose to make your achievement formal by purchasing an official Alison Diploma or Certificate.

Having an official Alison document is a great way to celebrate and share your success. It is:

Ideal to include with CVs, job applications and portfolios
A way to show your ability to learn and achieve high results
Modules List
( 15 )
DIPLOMA IN SALES MANAGEMENT

This module explains selling and sales influence our daily lives as well as how Internet-based tools such as forums, social networks like Facebook, MySpace, and Twitter, along with Web sites, live chat, and other interactive features allow customers to participate in the sales process.

In this module the main focus is on the varying industries or sales positions that are available and what traits and characteristics can help you to be successful in a sales position, such as through business to business or business to consumer selling. You will also learn about other forms of selling like direct selling, global selling and personal selling and how the combination of your beliefs, tendencies, and the actions that you take are the defining traits for a salesperson.

Module
3 Relationship Selling

Module 3 covers the power of building relationships and how to be a success in selling; you have to make selling personal. Every sale starts with a relationship and if the relationship is strong, there is a higher likelihood of a sale and a loyal repeat customer. The module also focuses on adaptive selling, which takes place in many situations in business and in life. It is the selling skill that allows you to adapt your communications to a person or situation. The use of customer relationship management tools is also covered such as the use of databases for recording sales and sale preferences.

This module explains how Ethics comes into play in the decisions you make every day. There are two aspects to ethics: The first involves the ability to discern right from wrong, good from evil, and propriety from impropriety. The second involves the commitment to do what is right, good, and proper. You will also learn how companies provide guidance to all employees about what behaviour is expected from them in its employee handbook and where the policies of a company are included in its employee handbook as well as learning about the basic policies, such as: conflicts of interest, bribes, and non-compete/non-disclosure clauses.

Module
5 Power of Effective Communication

In this module the main focus is on the elements of effective business communication and how miscommunication can result in confusion and may have a negative impact on business relationships. You will also learn about the appropriate etiquette for business communication. How to make a positive impression and how etiquette can make the difference in how your customer perceives you and your personal brand.

Module
6 Understanding the Customer

Module 6 covers the science of consumer behaviour, how retailers study consumer behavior patterns and lay out their stores and merchandise accordingly and explains when you understand the motivation of your customer, how you can customize your solution and your message to meet their needs. The module also focuses on the buying process and the steps that the B2B customer goes through when he is making a purchasing decision on behalf of the company and how the process applies whether the buying decision is being made by an individual or by a buying center.

Module
7 Diploma in Sales Management - First Assessment

You must score 80% or more to pass this assessment.

Module
8 Identify Your Customers

This module explains the seven-step selling process and refers to the sequence of steps salespeople follow each time they make a sale and how research and preparation pays off during the presentation process, when you propose your sales solution to your prospect. You will also learn about the concept of the sales funnel and how it illustrates the value of generating a large pool of leads because many of your prospects won't qualify or will drop out during the selling process. How prospecting and networking provides the opportunity to leverage your existing relationships to develop new leads is also covered.

Module
9 The Power of Preparation

In this module the main focus is on the Preapproach, which is a critical step that helps you earn your customer's trust and sell adaptively as well as the use of a planning worksheet to record your objectives and information. You will also learn about how to identify customers' problems and goals, and how to brainstorm solutions and opportunities that will meet their needs. The module also explains how to set SMART goals, which are; specific, measurable, actionable, realistic, and time-bound, that will help you direct your approach as well as how to personalize your presentation to match your customers' needs and preferences.

Module
10 The Sales Approach

Module 10 covers the six Cs of the sales approach—confidence, credibility, contact, communication, customization, and collaboration—which will help you make a good impression when you contact your prospect for the first time. The module also focuses on the different ways to start a sales approach. You will also gain an understanding of how to overcome your reluctance including focusing on using language that conveys certainty, practicing the approach through role-play, making calls at the time of day when you have the most energy, and visualizing a successful outcome.

Module
11 Sales Presentations

This module explains the process for preparing your sales presentation, to stay focused on the outcome and use pre-call objectives. You will also learn about your appearance, by giving careful attention to detail, such as accessories and grooming as well as conveying an image that's in line with your customer's products and values. The module also focuses on presentation methods, such as individual and group presentations and how to adapt your approach accordingly as well as using samples or demonstrations to get your prospect involved. You will also learn about SPIN selling, a four-step model that offers customized solutions to your prospect's problems.

Module
12 Handling Objections

In this module the main focus is on the best way to handle objections in every part of the selling process from qualifying through the preapproach, approach, and presentation and how objections actually help build relationships because they give you the opportunity to clarify communication and revisit your relationship with the prospect. You will also learn about the six major types of objections: product, source, price, money, need, and thinking about it, and the strategies that will help you handle them.

Module
13 Entrepreneurial Selling

Module 13 covers entrepreneurship, which is having the vision to create products, and services that can meet and exceed customers' needs and the common ingredients that are part of being an entrepreneur. The module also focuses on business plan elements such as statement of purpose and marketing, operational, and financial plans and how to present your business idea to potential resources and investors.

Module
14 Diploma in Sales Management - Second Assessment

You must score 80% or more to pass this assessment.

Module
15 Diploma in Sales Management - Final Assessment

You must score 80% or more to pass this assessment.