Diploma in Applied Operations Management
Learn how to practically apply professional operations management skills with this applied operations management course.
Publisher:

NPTEL
This free online Applied Operations Management course will introduce you to the practical applications of the main theories that underpin operations management. By the end of the course, you will have learned why virtually all operations management decisions are based on a forecast of the future, and how forecasts drive strategic operations decisions such as competitive priorities, changes in processes, and large technology purchases.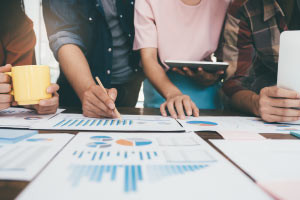 Duration

10-15 Hours

Accreditation

CPD
Description
This course will start by introducing you to business forecasting and teaching you why business forecasting is critical for managing all functional areas within an organization. You will then study forecasting methods such as time series forecasting. Next, the course will discuss the concept of aggregate planning and its use in medium-term planning in businesses. It will also teach you the linear programming technique and a special type of linear programming known as the Transportation Model.
You will then study terminologies such as tasks, task precedence, task times, and cycle time. The course will discuss the qualitative factors - such as raw materials, transport, and customer demand - that determine the location of facilities. You will then study the basics of inventory management and concepts such as deterministic demand and probabilistic demand, as well as the type of costs. Finally, you will learn about inventory models such as the single period inventory model, the multi-period inventory model, and the economic order quantity (EOQ) model.
Professional Operations Management is essential for improving the overall productivity of an organization, and plays a crucial role in handling issues with the design, operation, and maintenance of production systems. This course will teach you the theories and best practices of Operations Management to help you create the highest level of efficiency possible within your organization. So check out the course today, and start enhancing your operations management skills in just a few short hours.
Start Course Now