Diploma in Food Industry Roles and Responsibilities
Learn skills and techniques needed to be an efficient chef in any kitchen with this free online food industry course.
Publisher:

NuYew
In this course, you will learn how food safety and hygiene govern everything that you will do within the catering industry. This type of work includes preparing food, the aftercare of cooked food, being aware of special diets and temperature control. The course also focuses on personal development in the workplace. Learn to be aware of each team member's responsibility to keep a kitchen running smoothly, swiftly and efficiently.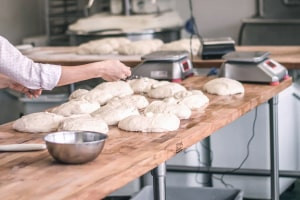 Duration

6-10 Hours

Accreditation

CPD
Description
Food safety and hygiene govern everything that you will do within the catering industry. No matter how great a product may taste or look, if it has not been prepared, stored and served to legally-set standards, serious health risks can occur, from minor illnesses to more serious outcomes in compromised groups. Not only does following good food safety and hygiene practices help create a positive image for you and your business but it is also required by law. 'Food safety' is the practice of protecting food from anything that could harm a consumer's health. 'Food hygiene' means ensuring that food is free from contamination, wholesome and fit for consumption. A key point is that contamination can occur at any stage of the food production process and, once it has been contaminated, it is unfit for consumption. The three types of contamination are physical, chemical or biological. Physical contamination can include foreign objects in the foodstuff. Chemical contamination can be anything from bleach to contaminated water. Biological contamination focuses on bacteria and viruses that arise from poor hygiene or cooking standards. Methods to avoid this will be analyzed in-depth throughout this course.
Food safety and hygiene laws apply to all catering and hospitality business types, whether they are a small cafe on the corner to a Michelin-starred restaurant. The catering and hospitality industry is one of the biggest industries in the world. In the UK alone, it provides employment to 9% of the population. If you are to succeed in this field, it is vital that you take pride in your personal appearance - both personal hygiene and your clothing should be impeccable. If you arrive at your workplace unkempt, your employer will assume that your working practices are the same: unclean and untidy. It also shows that you are aware of food hygiene regulations and that you take your responsibilities seriously. In addition to keeping a clean appearance, another important skill to have is time management and the ability to multitask. This is because jobs in catering are often high-pressure environments to work in. In order to work effectively and productively, you must learn to manage your time well. See this as an opportunity to improve. Personal development means setting goals and never being afraid to ask questions. If you practice this mindset, it can give your employers trust and confidence in the quality of your work.
Part of personal development is learning how a kitchen works. A kitchen where order does not exist is a complete disaster and lack of a defined structure can cause confusion. It could lead to more than one person preparing the same dish and neither being aware of the overlap. The brigade system was introduced in the late 19th century by French chef Georges Auguste Escoffier and can be likened to a military rank system. The typical positions you will find in a modern kitchen are head chef, sous chef, chef de partie, commis chef, pastry chef and kitchen porter. Each of these roles has a specific job to do and, once learned, will help keep a kitchen running smoothly. A good chef can only produce quality dishes if they have the correct equipment. An essential tool that can never be left out of a kitchen is a knife. When choosing a knife, comfort is vital - it must feel comfortable in your hand. Expensive does not necessarily mean better, rather select one that fits your needs. This course will cover the various and critical aspects of working in the food industry. Anyone with an interest in catering or the food industry will gain a lot, from a member of waiting staff just starting out to a chef who would like to reinforce their learning. This course will also be useful to home cooks as it teaches you the reasoning behind correct food-handling methods. Stay-at-home parents, students, child minders and carers can also benefit from learning these kitchen basics.
Start Course Now