Social English Language Skills
Learn how to make new friends and relationships through English with this social English language skills course.
Publisher:

Advance Learning
This free online Social English Language Skills course is for anyone who wants to meet new people and make friends. English is one of the most spoken languages all over the world and by guiding you through the basics of social language skills, you will be able to discuss fun topics and open up your social life. It will also help you see things from a different perspective and get a deeper understanding of another culture.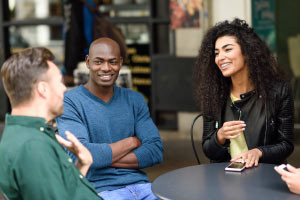 Duration

1.5-3 Hours

Accreditation

CPD
Description
This free English course will start off with the most common English greetings. You will learn how to introduce yourself when meeting new people and tell them a little about yourself and where you live. Next, you will learn how to make small talk in English, which is particularly important for business people who want to form a relationship before getting into serious details. You will also be taught how to make suggestions such as having a drink or going out for a walk.
As you get used to the initial stages of introduction and small talk, you will then learn the art of making polite requests in English and giving opinions. This will be very useful at work especially when talking to your boss or colleagues. Next, you will practice talking in English about your hobbies and things you do in your spare time. So the next time someone asks you ""What do you do in your spare time?"" you can say ""I study English with Alison!""
Learning English can seem overwhelming at times. This course aims to make it easy, boost your social life, and help you have much more enjoyable English conversations. This course is perfect for students who have already completed the free online course 'Introduction to Conversational English' and now want to further improve their social English language skills. So, check out the course, learn how to make small talk in English, and get closer to your next perfect English conversation today!
Start Course Now