Understanding the Essentials of Video Production
Refine your video production skills with this free online course and learn everything from conceptualization to editing.
Publisher:

Ustin Kompaniets
Have you ever tried filming with a variety of cameras only to be disappointed by the results, which were average at best and far from what you had hoped for? With this video editing course, you will take your first step in video production by studying the planning and filming stages as well as how to put your content strategy together, the numerous configurations such as editing, and producing your videos in the appropriate format.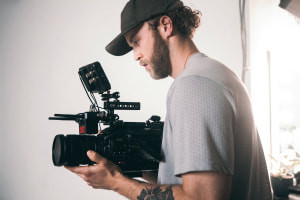 Duration

1.5-3 Hours

Accreditation

CPD
Description
Did you know that in modern society, videos are the most appealing form of content? If you want to learn how to create digital content or simply improve your video creation skills and speed up the process, this online video editing course is for you. The initial planning for your video is explained in detail which includes how to choose a topic, create an outline using brainstorming and mind mapping techniques, select a location by considering the advantages and disadvantages of shooting inside and outside, and how to prepare your equipment, which should include a camera, microphone, and lights as a starting point.
This video editing tutorial then goes over the filming procedure and explains the process of becoming more comfortable and confident in front of the camera by smiling, stretching, and loosening up before you start shooting. You will discover how to put text or images into your films using a range of screencasting tools, jump cuts, and B-rolls. Following that, you will learn how to utilize a checklist to recall the precise tasks to use and implement, such as keeping the noise down, the batteries charged, and how to use 'Plan B' to rectify voiceover errors. This section concludes by showing you some tips on creating high-quality videos with video diaries and improving your computer editing workflow for optimal efficiency.
The final section delves into the methods for importing, storing, and how to edit videos. All the technical requirements are discussed such as how to avoid video recording stops and errors by using high-quality memory cards, the best places to store your data and then the all-important video editing. The tools and programs you will study will help you take your movie to the next level by adding effects and elements like filters, colours, images, and graphics. This video editing certification finishes off with the last steps of creating your masterpiece which are how to use a video card to render your modified films, establish a little proxy to test the quality, and assess the entire project before exporting it. Prepare to embark on an exciting video production journey from start to finish with this 'Understanding the Essentials of Video Production' course which you should enrol in if you aspire to be in videography, are in graphic design and want to add videography to your portfolio or if you are a content creator wanting to improve the videos you post on your YouTube channel or other social media platforms.
Start Course Now