Toolkit for Lean Six Sigma
Become efficient, and learn to reduce production waste with the Lean Six Sigma Toolkit in this free online course.
Publisher:

Robert Chapman
Researches over time have proved that over 70% of monies spent by manufacturing organizations usually go towards the purchase of inventory that is used for the production process. With this kind of investment, great care needs to be taken to ensure wastes are reduced to the barest minimum. Lean Six Sigma (LSS) is one efficient way of achieving this. This free online course will take you on an exciting journey into the world of LSS. Enrol now!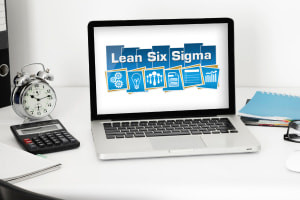 Duration

3-4 Hours

Accreditation

CPD
Description
In all aspects of human endeavours, wastes are generated. Wastes are generated from both domestic and commercial culinary activities, production, manufacturing, service delivery operations and even from biological processes (such as wastes from plants and animals – including humans!). Do you know that there are wastes that are very costly to incur? Even though it looks normal for wastes to evolve from our daily activities, there are some wastes that depict inefficiency and can ultimately lead to loss of resources – especially in manufacturing organizations. These wastes need to be avoided as much as possible. There are several techniques of reducing wastes that come from manufacturing operations but one very prominent technique is the Lean Six Sigma (or LSS for short). What is LSS? How is it used? This course carefully examines these questions and provides answers to them. Lean Six Sigma is a great tool in the hands of an operations manager if properly deployed and that is why this course takes you on a great learning journey on how to apply this tool to ensure efficiency in your organization.
The course begins by giving an overview of Lean Six Sigma, the benefits and the toolkit and the scenarios that can be used to explore the tools. What does 'cause and effect' mean in LSS? This topic (cause and effect) will give a vivid and simple explanation to this question covering important aspects such as Ishikawa Diagram, 5 whys, Pareto charts as well as C and E matrix. This course goes further to explain how the Lean Six Sigma toolkit can be used to work with ideas generated within an organization, covering important aspects of idea generation such as brainstorming, affinity diagram and multi-voting. This course also covers several important aspects of process mapping such as swim-lane, SIPOC, spaghetti diagram and more. Do you know that customers have a significant role to play when making use of the LSS toolkit? The topic 'voice of the customer tools' gives a great insight on how to use the LSS tools to take care of customer-based business problems.
If you want to be an operations manager or an efficient manager, this course is for you. Are you struggling to curtail excessive wastes in your manufacturing or service delivery operations? This is a course you cannot afford to miss. It is garnished with everything you need to use the LSS toolkit to manage your business processes for efficient results. Lean Six Sigma toolkit is relevant to almost every business and technology-based organization and great knowledge of it will give you a push ahead of your contemporaries. So, why wait? Join the moving train into a world of excellence with this free online course.
Start Course Now