Lean Process and Six Sigma
Learn how to improve performance by removing waste using the concept of lean and six sigma in this free online course.
Publisher:

One Education
The lean process aims at eradicating all forms of waste in a system or organization thereby bringing about the creation of value through improvement and optimized productivity. This course is designed to teach you how to eliminate wasteful steps and foster a constant chain of improvement using the concept of lean and six sigma. You will learn about the principle of lean culture, different types of waste, the key principles of six sigma and more.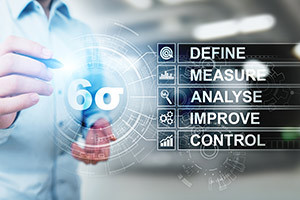 Duration

1.5-3 Hours

Accreditation

CPD
Description
When faced with new competitors and changing macroeconomic conditions, an organization can only survive for a long time by regularly checking what creates value and revenue in the system. Anything that does not create value for the company is considered waste. Lean is a systematic approach to the reduction or elimination of actions that do not add any value. Why is lean so important to an organization? Lean makes an organization more flexible and adaptable to change as it occurs. The lean process focuses on removing wasteful steps and is designed to be continuously assessed to help promote a continuous chain of improvements in an organization. This course will teach you the different processes associated with lean, its history and several associated tools. You will learn about the principles of lean culture, its core beliefs and the issues that may be faced as a part of the process. On top of that, we will show you the five principles of lean and their purpose.
Waste management is a crucial part of the success of any organization. Companies have to consider areas of waste in their organization to eradicate or reduce it to its bare minimum; thereby increasing productivity and efficiency in the workplace. This course will teach you about value, different types of waste and how waste can be removed from the lean process. Learners will gain an understanding of the causes of these wastes and the lean method designed for workplace optimization. Following that, you will learn about aspects of the value stream mapping tool, including its purpose and benefits to the lean process. This course will bring to your understanding the process of flow and pull, alongside continuous improvement and the techniques that assist in its function. Thereafter, you will be taught the seven flows of manufacturing that are designed to ensure maximum efficiency within a system.
Six Sigma is a method that aims at improving the capability of a company's business processes. It comprises a set of tools and techniques used by companies to improve production processes, eliminate wastes and establish quality. Lean Six Sigma aims to remove all waste and to promote work standardization and flow through applying a fact-based and data-driven philosophy. In this light, you will learn about the six sigma approach to improvement, as well as its history, key principles and methodologies. You will learn about the 'define phase' which is the first phase in all six sigma projects. We will show you the principles of planning and techniques involved with this process. Learners will be taught the different aspects of the 'measure phase' of the six sigma process, including the various process principles and tools that are involved. Other phases of the six sigma projects such as the analyze and improve phase will be covered in the final part of the course. This course is open to all and also important for managers as the lean and six sigma process can improve the way your team manage projects and deliver products. Why not reduce or eliminate actions that do not add any value by taking this course today. Why wait? Enroll and start this course now.
Start Course Now