Public Speaking on Panels
Learn how to present your ideas effectively on panels and other public speaking settings in this free online course.
Publisher:

TJ Walker
Do you feel nervous before facing a large audience and unable to communicate your exact message? The good news is that you are not alone and the fear you face can be easily overcome. This free online course will teach you the right way to prepare for your speech and deliver your intended message in an effective way. You will learn how to give a presentation comfortably and make your message interesting, understandable and memorable.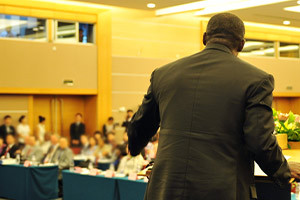 Duration

5-6 Hours

Accreditation

CPD
Description
Whether you run a business or work as an employee, public speaking skills play a key role in deciding your future and growth in your career. This free online public speaking course will teach you how to write your goals for a speech, practice your speech on video and test the effectiveness of your speech through feedback from friends or colleagues. You will also be taught how to instantly grab the audience's attention instantly. A panel presentation is a type of public speaking in which informal discussions take place among diverse members of a group. Some of what you will be taken through includes the possible outcomes of a panel discussion, how to present your ideas effectively in a panel presentation and Microsoft PowerPoint techniques so you can make your presentation interesting and captivating through interesting visuals. 
Different organizations may seek financial support from people to smoothly run their operations and achieve their goals. You will acquire the knowledge needed to raise a specific amount of money for an organization or a political campaign within a specified period through motivating an audience to donate. Engineers have an awful reputation when it comes to public speaking which is often due to their use of excessive data in presentations. Engineers will learn how to narrow their message down to the right number of messages to avoid unnecessary data and make their speech interesting to the audience. Video-sharing websites have a large number of daily visitors throughout the world and most people want their information in a video format. This public speaking class will teach you exactly how to create videos and make your own digital TV network online to spread your message and send proposals to prospects. Other sections of the course covers different areas of public speaking including a candidate's speech, informational speech and ceremonial speech.
This course is designed for new and professional public speakers who want to improve their communication skills for diverse situations. People from any age group, gender or profession can take this public speaking training course to learn how to communicate their message in an interesting and effective way. Public speakers from different professions have to convey their messages according to the requirements of their professions, understanding and expectations of their audiences such as a speech for a political rally and a ceremonial speech. This course covers a wide range of settings for public speaking and it has dedicated sections for people from different backgrounds. Lack of good communication skills can be the single most important factor that is keeping you from achieving your goals and making a positive impact on society, and enrolling in this will show you how to overcome your shortcomings and learn new tips to polish your public speaking skills in a wide range of areas to boost your career.
Start Course Now