Public Speaking: Listening and Audience Analysis
Be the engaging public speaker you have always wanted to be, get your audience listening with this free online course.
Publisher:

Saylor Academy
We've designed this free online course to help you understand the finer nuances of listening, so you can get the most out of your audience. There's no point in delivering a lengthy public speech without anyone listening. Your audience might be hearing you, but are they listening? This Alison course will teach you how to analyze your audience and apply your findings to ensure they don't just hear you but also listen to you.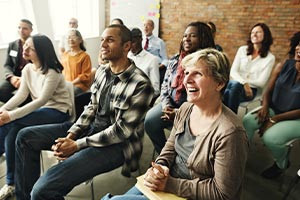 Duration

1.5-3 Hours

Accreditation

CPD
Description
Every public speaker has an audience. Speaking, generally, involves communicating a message to a person or a group of people. The person or people on the receiving end should not just be hearing you – they should be listening. And there are millions of people speaking in the public domain these days - especially with the prevalence of social media. Some are educating. Some are entertaining. And some are airing their opinions, while others are merely reporting views that are not their own. Speaking comes in different means and forms. A public speech could involve a professional speaker addressing a graduate class during a convocation ceremony or a preacher speaking on the streets to convert people to a religion. It could also be in the form of a salesperson trying to convince a set of potential buyers or even an individual sharing a Youtube recording. But the question is, how do you know your audience is listening? Many people believe that popular, professional speakers automatically have a listening audience, but are they truly listening? How do you distinguish between actual listeners and mere hearers? This course has been designed to give factual answers to these and many more questions.
We will start by examining the major differences between hearing and listening. It outlines the different listening styles, as well as the various stages of listening. We will help you understand why listening can be difficult and how to go about listening critically. It is crucial to conduct an audience analysis. We have packaged this course to help you conduct an audience analysis. This course will help you understand other reasons why it is vital to conduct an audience analysis. It further examines the different types of audience analyses that can be employed to help you achieve your aim of having a listening, engaged audience. We will also show you how to apply your audience analysis. This course is the real deal if you want to get people to listen to you.
Are you a professional speaker who makes regular presentations to large audiences? With this course, we will put you in the listener's shoes so that you know what to expect from listeners and how to get the best from your audience. We will help you form a clear understanding of what it's like to listen to you speak. This means assessing your personal listening habits, as well as those of your anticipated audience. Do you enjoy listening to public speakers but are struggling with the ability to listen critically and effectively? Well, we've designed this course to improve your listening skills to get the most out of the speeches you listen to. And if you are a teacher facing with large student audience and are looking for ways to get your message across, you'll also benefit from this course. And best of all, it's free! So, why are you still waiting to sign up? Jump into this course now and become the speaker you've ever wanted to be.
Start Course Now