How to Speak Effectively
Learn how to rehearse, present and speak with confidence in any setting by taking this free online course.
Publisher:

TJ Walker
Are you planning to host a podcast, create YouTube videos, appear as a guest on a radio show or holding a press conference? By studying this course, you will learn how to optimize your voice to always speak confidently and effectively. We'll guide you through the basics of proper planning and provide valuable tips so that your audience has a fantastic listening experience every time you speak.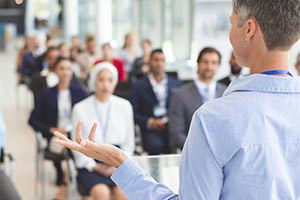 Duration

1.5-3 Hours

Accreditation

CPD
Description
Most people know how to express themselves and speak effectively when they have one or two persons as an audience. However, when they realize that the audience could be way bigger and include members of the media, they become nervous, self-conscious and begin to act up. If you have a phobia of public speaking, this course will teach you how to communicate with confidence and clarity every time you need to make a speech. We'll start by exploring the rudiments of hosting a podcast so that people will enjoy listening to you anytime you speak. Alongside this, we will show you how to communicate with simplicity and enthusiasm. Also, we will guide you through the steps you need to take to become a delight to millions of potential radio audiences as you deliver your message with passion, clarity and professional attitude. 
Next, we'll provide guidelines to help you figure out your press conference goals, and we will teach you to come up with a talk that is loaded with message points and sound bites. You'll know how to deliver your message with zeal and conviction. We also work through scenarios where things don't go according to plan. For example, what to do if reporters don't show up when you call for a press conference? We will equip you with the necessary media tips to salvage situations where reporters don't show up when you call for them. The media is moving away from predominantly text-based formats to the use of video. Many people prefer video as a means of communication, and we see this in the popularity of apps like TikTok and YouTube. We will show you how to start a digital TV network to create videos that you can share on YouTube and other social media channels to deliver messages to a diverse audience with a global spread.
Have you listened to a recording of your voice before? Do you like the sound of your voice? How does it compare with the voice of your favourite superstar? This course will help you understand why you sound the way you do. We will go ahead to tutor you to diagnose your voice to isolate any problems with a view of fixing them so you can speak comfortably anytime. We can build relationships, influence decisions and encourage change by communicating effectively. Without good communications skills, it would be practically impossible to advance in the workplace and life. This course is for subject matter experts, PR consultants, PR firms, corporations' communications departments, and anyone interested in developing great content and delivering them through various media forms. Do not delay. Jump right in and start this course today.
Start Course Now