Marketing is an essential function and at a very basic level, simply connects customers to your business. It is however a specialized function and knowing how to do it properly and cost-effectively takes a particular set of skills. This free online marketing course focuses on how to find your customers' wants and desires, customer service, competitor analysis, and technical functions such as visual branding and automated marketing systems.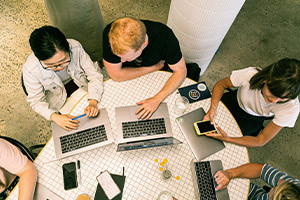 Duration

1.5-3 Hours

Accreditation

CPD
Description
If you are passionate about marketing and want to refine these skills to take small businesses to the next level, then keep reading. In this free online marketing certification, you will learn how to become a powerful small business marketer and not only will it make you a more strategic marketer, but will also arm you with all the tools and knowledge that will springboard your technical expertise. The start of this online marketing certificate focuses on how to set the right goals and objectives to marketing your small business brand and making it profitable. Without customers, your business cannot exist, and this part of the course delves into customers' wants, needs, and desires. Learn how to develop a unique selling proposition that attracts your customers' attention and satisfies their wants as well as the concept of differentiation and competitive advantage over your competition.
The next section of this marketing training covers the steps and process of how to communicate, pitch, and sell your product to a premium customer and make a profitable sale including how to create marketable products and experiences that drives free word-of-mouth marketing - which has proven to be the most credible form of marketing. Your creativity will be put to the test in this part of the course because you will be taught how to present your visual brand elements and graphics including your logo, colour pallet, products and packaging, social media photography, and website design. Product distribution and digital marketing training is next in the course where the content discusses the ins and outs of distributing your products both online and offline, how to sell on Amazon, build your e-commerce website and an offline retail store.
The ultimate aim of this in-depth free marketing course is to teach you a range of fundamental principles of marketing, the analysis of marketing systems and funnels, referral generation, advertising and branding, and how to combine these to enable profitability. Enrolling in this course will set you on the right path to becoming a successful entrepreneur, marketer, and brand strategist with lots of real-life examples, case studies, and supporting materials included in the course that will simplify and enhance your learning experience.
Start Course Now