Product Strategy to Grow your Business
Learning effective winning product strategies and plans to grow your business further by with this free online course.
Publisher:

EntrepreneurNOW Network
The pivotal part of any business is the product. As an entrepreneur or business person, you appreciate the value of a successful product or service for your business. Learn how you can conceptualize, plan, launch and develop any new product or service with this free online course. This free course teaches you all the winning strategies and effective ways to launch and build a commercially successful product or service for your business.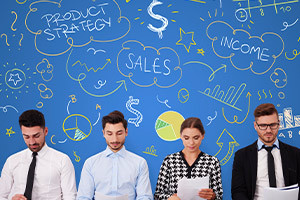 Duration

1.5-3 Hours

Accreditation

CPD
Description
A commercially successful product is the first and foremost requirement of any business, and a portfolio of such products, the desire of any businessman or entrepreneur. A successful and popular product helps in attracting customers or increasing sales. It also helps in attracting investors that further fuels the growth of your company or business. But having a successful product requires a whole lot of planning, skills, and strategies. This free online course is designed to keep in mind the demands of modern business practices and teaches in detail all the procedures, processes, and strategies required to launch and develop a successful product for your business.
Professionally created tutorials with business case studies in this free online course hand walk you through all the processes required to launch and develop a product. From conceptualizing the idea to planning, launching, testing, and further developing the product, tutorials in this free online course guide you in all the modern business practices and plans required for a successful outcome. The tutorial covers shaping and defining the product and strategies for creating your MVP or minimum viable product, product roadmap and ways to create a roadmap you apply to sustain the market and competitors, and understanding how to get your customer (or potential customer) involved in the process which is critical to your success. As a bonus, you also receive Create a Winning Product Strategy - Planning Worksheet specially designed to help you prepare a product strategy for your business plan.
So if you are a budding entrepreneur, seasoned businessman, or professional this free online course is perfectly designed for you. With examples of real companies cited throughout, this free course equips you with all the tools, practices, and strategies of modern business you not only need to visualize, build and launch a product but also be successful in any venture. Join this free online course now, get enrolled, and be able to apply the knowledge and information immediately to achieve everlasting success and growth for your business.
Start Course Now