Principles for Forecasting in Times of Uncertainty
Navigate uncertainty with various data analysis tools and forecasting techniques offered in this free online course.
Publisher:

Ross Maynard
This course will teach you the fundamentals of forecasting and data analysis during uncertain times. You will learn about various agile forecasting techniques and tools that you can use to help with forecasting. We will also discuss different types of data distribution, including the normal distribution and the Poisson distribution method. You will learn to calculate data in uncertain times and carry out data analysis using various techniques.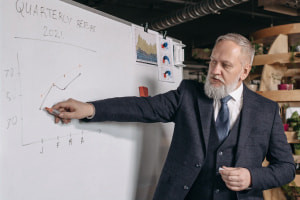 Duration

1.5-3 Hours

Accreditation

CPD
Description
Forecasting is the process of predicting possible scenarios based on the availability of past and present data. It helps an organization or individual to analyze the situations and prepare accordingly. Businesses must analyze data and trends to plan for their future business ventures. Of the numerous benefits of forecasting, the most important is the ability to anticipate the market's movements on a large scale. This helps a business prepare for and navigate every change, rather than merely reacting to any change in the market. Forecasting plays a vital role in planning, and planning forms a backbone of effective operations. This free online course will guide you through these critical data analysis and forecasting skills using various methods.
Over the last few decades, numerous forecasting methods have been used. Still, some traditional methods do not meet the current needs of the market. To meet the current advanced forecasting needs, the concept of agile forecasting has been introduced. This course will familiarize you with the differences between traditional and agile methods of forecasting. We will extensively study various factors and principles of agile forecasting. We will illustrate a variety of examples to explain agile forecasting. You will learn the challenges faced by organizations when implementing agile methodologies, as well as the Scrum methodology. After that, we will address the various roles in a 'Scrum forecast'. Every forecasting method has several requirements that need to be met for a successful forecast. We will outline these requirements for the 'Scrum method'. 
Following our study of the 'Scrum method', we will demonstrate various simulations. Thereafter, we will discuss essential Excel functions and their contribution to effective forecasting. Functions like RANDBETWEEN and NORM.INV will be explained with real data. We will also illustrate data distribution methods like normal distribution and the Poisson distribution. Finally, we will explore the concept of relative forecasting and its advantages. This course will assist you in clearing a path through the fog of uncertainty. It will not solve all of your problems, but it will provide you with some pointers and guidelines to help you get started in the right direction. This course is suitable for any individual looking to attain or develop their forecasting and data analysis skills. Take advantage of this free course. Enrol right away!
Start Course Now