Learning Lean Six Sigma: Yellow Belt
Learn from a fundamental level about the Lean Six Sigma methodology for process management with this free online course.
Publisher:

Robert Chapman
This free online course will provide lessons on managing processes using the Lean and Six Sigma methodologies. You will learn about the quality requirements for Six Sigma processes. The course will also take you through all the phases of the DMAIC model. The reduction of wastes in organizational processes is an important aspect of management, and this course is sure to help you build competency in that area, so why not start learning today?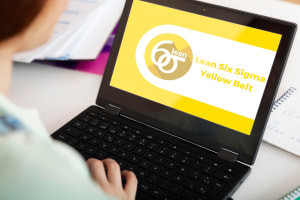 Duration

5-6 Hours

Accreditation

CPD
Description
This free online course on Lean Six Sigma has been carefully curated to provide the learner with adequate tutelage on the application of the Lean Six Sigma approach to facilitate process improvement. The course begins with a brief section on the fundamentals of Lean Six Sigma. You will discover the aims of this process, learn about quality from a general perspective, and understand why a focus on it is imperative. The course goes on to provide a comprehensive overview of the Lean and Six Sigma methodologies respectively, giving a thorough historical account of the evolution of these processes. You will learn about value-adding and non-value-adding steps, how to create value, and processes in general. You will also learn about the different belts and roles in the Six Sigma method. A slight difference exists between good quality and Six Sigma quality. Can you tell the difference? Find out as we compare good quality to Six Sigma quality in this course.   

Furthermore, gain a thorough understanding of the DMAIC model and its application. Learn about the Define, Measure, Analyse, Improve and Control stages of process management. The course will dissect aspects like how to develop project charters, scope, timeline, roles, business cases, and goals statement. You will learn how to make a project plan, communication plan, stakeholder analysis, and develop a SIPOC map. You will also receive lessons on the voice of the customer (VOC) capture, where you will learn about methods such as point of use observation, focus groups, surveys, Kano analysis, and critical to quality tree (CTQ tree).  Other important concepts which are articulately discussed in this free online course include the root cause analysis, gap analysis, control impact matrix, the fishbone diagram, and multivoting. All these will lead to the eventual creation of a solution to whatever waste problem is being experienced, but then what? How do you think the created solution will be deployed? Explore the solution selection and implementation, as well as the control and project close processes to complete the DMAIC chain; It is a complete package.
Quite often, organizational processes are riddled with operational wastes on different levels. From extended overtime budgets caused by workers not functioning to their appropriate capacity, to wastes resulting from the variability of workflow, or even the presence of non-value-adding work, the list goes on. And for organizations, these wastes, if not handled, could result in organizational ineffectiveness on many levels. The Lean Six Sigma methodology, being a combination of methods, has been designed to help reduce these wastes in whatever form they appear in organizational processes, products or services, making operations very effective and with minimal errors. This course has likewise been designed to provide adequate lessons on the application of the Lean Six Sigma methodology in organizational processes. Study all about the five phases of the DMAIC model as part of the Lean Six Sigma initiative. With provided case studies, this course is sure to help you build competency in process management; a vital skill for workforce and process improvement. Start learning today. 
Start Course Now