Beginner Course in Managing Employees
Get your employees motivated and learn what it takes to get the best out of them with this free online course.
Publisher:

Saylor Academy
This free online course will help you learn the important steps you can take to get your employees working the right way. Managing people is often a difficult and complex task and the content in this human resources course will teach you the right things to do to get your job done, keep your employees motivated and productive, and the importance of applying the right conflict management techniques to ensure a happy working environment.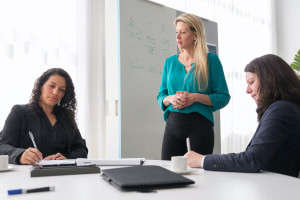 Duration

1.5-3 Hours

Accreditation

CPD
Description
A lot of organizations – especially international organizations spend thousands (if not millions) of dollars each year to recruit the best people in order to get their jobs done efficiently and also be at the top in their respective industries. One problem many of these companies encounter however is high labour turnover (that is, when people resign from their jobs too often) and this means that the money spent on recruitment has been wasted. Employees resign from their jobs for several reasons and one question many people ask however, is 'why would employees leave a company after a short stay despite the rigorous recruitment process they went through?' It has been discovered that many employees are simply not motivated. What is motivation really? How can a company successfully keep all its employees motivated despite the fact that different individuals have different motivation factors? This leadership course provides sound answers to these questions and more. Do you know that the differences in people and their individual interests can lead to conflicts in the workplace? These conflicts, if not properly handled, can stall the progress of an organization which can lead to an avoidable loss of revenue. 
This course in people management begins by examining some of the theories of motivation including need-based and process-based motivation theories. These theories will give you insights about the true meaning of motivation. You will then move onto the concept of job design and study the relationship between job design and motivation before covering workplace conflict. What are the causes of conflicts in the workplace? How can these conflicts be resolved to ensure uninterrupted operations of the organization? All of this and more is answered succinctly, in an easy-to-understand way so that you can understand your employees better and manage your team more effectively.
Although a large part of managing people and learning to manage people is done in the workplace- and team setting with experiential learning, the more tools you have as a manager, the easier it will be to keep people motivated and create a harmonious environment for people to thrive. Whether it is dealing with employees who are being challenged with their workload or team members constantly in conflict - enrolling in this course will supply you with implementable methods that you can use throughout your career and make you a better, more well-rounded leader.
Start Course Now