Introduction to Basic Settings and Functions in Adobe Lightroom
This free online course examines the functions and features of Adobe Lightroom, along with various digital image files.
Publisher:

YouAccel Training
This free online course on Basic Settings and Functions in Adobe Lightroom teaches you about the multiple applications in Lightroom. You will learn about different digital image files, backup configuration, creating catalogues, colour-bit depth, and colour space types. We also cover text and graphic watermarks in this course, and you will learn about the differences between collections and collection sets.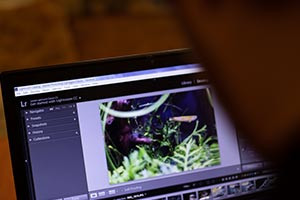 Duration

4-5 Hours

Accreditation

CPD
Description
This free online course has been specifically designed to teach you how to navigate Lightroom and its multiple applications. It offers an ideal opportunity to familiarize yourself with the main functions of the application. We will show you the features of raw files and explain the importance of investing in an external hard drive. Did you know that Lightroom builds catalogues of your photos? We will help you make the most of this feature by showing you how to create folders for these catalogues. You will soon realize how important it is to configure Lightroom to automatically backup your catalogues. We will also explore the functions of smart previews and introduce you to the different qualities of previews built by Lightroom. Another exciting feature of Lightroom is the file renaming panel, which changes names on files as they are imported from a media source. The course will explain all the different formats of the file name extension. And upon the completion of this course, you will be able to explain how to create a preset.
We'll also show you how integrated Lightroom is with other Adobe applications. For example, we will discuss editing images using external applications such as Adobe Photoshop through the external editing panel. There are various key terms used in Lightroom. By the end of this course, you will know how to indicate these features, along with the differences between RAW and JPEG files. Did you know RAW and JPEG files both support 16-bit colour depth? Once we've covered this section of the course, you will be familiar with the concept of colour-bit depths. You will know how to indicate the unique characteristics of Digital Negative (DNG) files and how they are configured when imported. We'll also look at Adobe RAW, which is an application that helps to enhance images. You will learn about the versions of Camera RAW that your application uses. TIFF files are recommended when exporting photos from Lightroom to Photoshop. This course will teach you about all its features and benefits. Prophoto RGB is the largest colour space followed by Adobe RGB, and we will discuss the concepts and types of colour spaces. Lightroom allows you to personalize additional interface components through the identity plate. We will cover the configuration process of the identity plate extensively in this course.
Furthermore, you will learn about watermarks and the two types you can execute in the application. We'll also explore Lightroom's powerful features to help you organize your material, and you will become familiar with sorting and managing large volumes of photos. Collections are a vital concept to understand when navigating through the Lightroom application. We will highlight the differences between collections and collection sets. When images are imported into a gallery, they can be filtered by filename, copy name, or other data types. Keywords help you identify a specific image or group of images. This course will familiarise you with keyword identifiers and functions of the keyword suggestions panel. You will learn how to make thumbnails visible and the functions of the different tools in the navigator panel. This course will be of great interest to students, researchers, professional photographers, photo enthusiasts and anyone interested in understanding basic settings and functions in Adobe Lightroom. So, register for this course and start your next learning journey today.
Start Course Now