Diploma in Exploring Adobe Lightroom Interface
This free online course examines the functions and features, as well as working panels in Lightroom.
Publisher:

YouAccel Training
This free online course on Diploma in Exploring Adobe Lightroom Interface teaches you about the multiple applications, settings and features of Lightroom. You will learn how to create collections, along with collection sets. The functions and features of the develop, print, web, as well as the book module will also be highlighted in this course. You will also learn how to create online custom photo galleries which you will get to practice.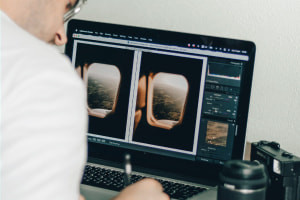 Duration

10-15 Hours

Accreditation

CPD
Description
Diploma in Exploring Adobe Lightroom Interface is a free online course that has been specifically designed to teach you how to navigate through Lightroom and its multiple applications. The course highlights the main functions of the application. You will learn about the features of raw files, as well as the importance of investing in an external hard drive. Are you aware that RAW and JPEG files both support 16-bit color depth? Prepare yourself to learn about the concept of color-bit depths. You will also be able to discuss the concepts, as well as types of color spaces. Lightroom allows you to personalize additional interface components through the identity plate. The configuration process of the identity plate will be covered extensively in this course.
Flags are a vital means of highlighting specific images. Did you know that there are two types of flags? You will be introduced to their distinct functions and features. Creating collections is imperative in Lightroom. You will learn how to administer both collections and collection sets. Upon the completion of this course, you should be able to list the five color label types that you can apply to images. When editing photos, you should have a comprehensive understanding of white balance and its features. You will also gain knowledge on the different types of light sources along with their temperatures. Are you aware that the develop module has a unique feature that is not available in the library module or loop view? You will learn about the before and after mode in the develop module.
Maps help you geotag images. You will become familiar with the map module, as well as how to sort images with and without GPS coordinates. There are multiple types of views for maps. You will acquire knowledge on how to change these views, along with their functions and differences. A slideshow is a great way of presenting photos to friends and family. To understand this better, the slideshow module will be explored. This course will be of great interest to students, researchers, professional photographers, photo enthusiasts and anyone with an interest in understanding in exploring the Adobe Lightroom Interface. So, register for this course and start your next learning journey today.
Start Course Now