Diploma in Exploring Adobe Lightroom Interface
This free online course studies how to use the many powerful functions, features, and working panels in Adobe Lightroom.
Publisher:

YouAccel Training
Get the most out of Adobe Lightroom with this Diploma in Exploring Adobe Lightroom Interface. This Adobe Lightroom tutorial teaches you a whole host of important features you may not have known about such as how to create collections and collection sets, the various fundamental settings you need to master in order to export for print and web, the uses of the book module, and steps to create custom online photo galleries.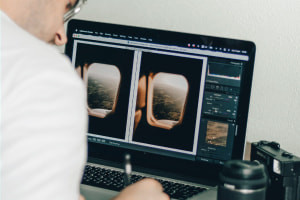 Duration

10-15 Hours

Accreditation

CPD
Description
If you are in a creative area such as graphic design for photography or aspire to be in these fields, then you no doubt know about Adobe Lightroom. This Adobe certification will help you navigate this powerful software's many applications so you can master advanced Lightroom skills in no time. The course kicks off by teaching you about the importance of investing in an external hard drive to store your images and artwork, what RAW and JPEG files have in common, the concept of colour spaces, and how Lightroom allows you to personalize additional interface components through the identity plate.
Flags are a vital means of highlighting specific images. Did you know that there are two types of flags? You will be introduced to their distinct functions and features before learning about the importance of creating collections and how to administer both collections and collection sets. This Adobe Lightroom course then covers the five color label types that you can apply to images, what white balance is and its features, light sources with their respective temperatures and what is included in the 'develop' module that makes it different from the 'library' module and 'loop' view. 
Maps help you geotag images and this is very useful for sorting images with and without GPS coordinates. There are multiple types of views for maps and you will learn about their functions and features and how to change them as well. Towards the end of this Adobe training, the content covers all about slideshows. Using the slideshows feature in Adobe Lightroom allows you to present photos to friends and family or even in a professional capacity during your work in photography. Enrol in this creative free online course and learn Adobe Lightroom essentials as a creative student, professional photographer or photo enthusiast so you can use your newfound skills to create beautiful images for applications on social media, design and much more.
Start Course Now