Insights for a Happy Life and Transformational Super Powers
Learn how to determine your success and happiness through the power of your mind in this free online course.
Publisher:

Nitesh Gurnani
This free online course will teach you everything you need to discover concerning practical ways to boost your sense of meaning in life. Happiness has often been linked with possession. However, the only determinant of your happiness and success in life is your mind. Understanding the importance of your mind is crucial to attaining a transformed life. By learning how to take control of your mind you will begin to live a happier, successful life.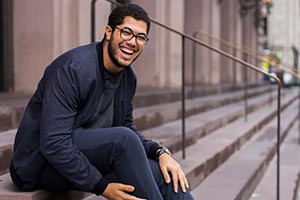 Duration

1.5-3 Hours

Accreditation

CPD
Description
This free online course will teach you a general overview of how the mind functions, neuroplasticity, and the role thoughts play in shaping the mind. The mind is the hub of activity of the body, actions are the results of the thoughts that happen in the mind. You will learn in this course the difference between the conscious mind and the subconscious mind, that's the active and sub-active mind. This course will teach you the connection between the conscious and subconscious mind. You will understand that whatever conscious thoughts go on in the mind whether positive or negative is received into the subconscious mind; so, keep it positive and know that the universe will always revolve around thought patterns. You will learn the three factors that help in shaping the conscious mind and further helps the subconscious mind. You will also learn in this course how to rewire the thought patterns especially when it's negative and toxic. You will learn how to flourish and become better even when events around you seem negative and unfavorable. Do you know that karma simply means work/action towards something? You will learn also the effects of karma. You will learn how to create positive motives for every action taken or work done which will in turn form habits and good thought patterns.
This course will enlighten you on the source of happiness, this can happen by the classified states we go through each day. You will also learn the causes of unhappiness; all these are internal and a little external too. You will also add to your knowledge the principle of positive thinking; know that what you think is what you become. In this course, you will learn the principles of positive thinking. You will learn the art of gratitude and contentment; since our fulfilment is from the within, objects should not be the drive. You will be taught the effective laws of relationships and when to enter into one. For a beautiful mind, there should be wholesomeness and, in this course, you will learn the art of healing the mind through forgiveness. Superstition is a widely held but irrational belief that dictates some area of our lives, you will learn how superstitions are formed and determine if they should form part of your daily ideologies. In this course, you will learn the power of doing a thing at a time; the power of focus. It will also teach you steps to making decisions. This course will expose you to great insights for a happy life. You will learn the powers that drive you to success. You will be taught the power of focus, the mastery of concentration on a given goal. This course will teach you the fundamental powers to gain stability in the mind for a productive and happy life.
This is a practical course with all the principles you will need to be happily successful on anything you set your mind to achieve. This course will expose you to have a panoramic view of how the mind works. People have become something completely different from what they would have planned to be simply because of the wrong thought patterns or beliefs which take place in the mind. By studying this course, you will have the right channel for having a stable and balanced thought process, which will guarantee a beautiful and fulfilled future. Remember, what we think is what we become. Enrol in this course today!
Start Course Now