Insights for a Happy Life and Transformational Super Powers
Learn how to use the power of your mind to achieve success and happiness with this free online self help course.
Publisher:

Nitesh Gurnani
This free online course helps you to explore practical ways to boost your sense of meaning in life. Happiness is often seen as something to 'pursue' or 'possess' but we explain that your mind is the only determinant of your happiness and success. Enhancing your understanding of the importance of consciousness can transform your life and this course helps you to take control of your mind to make each day better than its predecessor.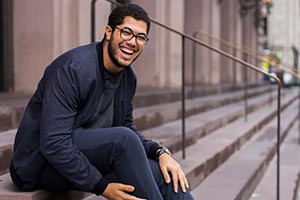 Duration

1.5-3 Hours

Accreditation

CPD
Description
This free online course provides a general overview of how the mind functions and analyzes neuroplasticity and the role of thought in shaping consciousness. The mind is the hub of the body's activity and actions begin in the brain. We lay out the difference between the conscious and subconscious mind, also called 'active' and 'sub-active' thought, and navigate the connection between the two modes. Conscious thoughts, whether positive or negative, impact the subconscious mind so we suggest you keep thinking positively to define your environment and life experience. We identify the three factors that help shape the conscious mind and in turn its subconscious counterpart. This course demonstrates how to 'rewire' your thought patterns, especially those that prove negative or toxic, which can help you flourish in the face of adversity. The ancient Hindu idea of 'karma' simply means 'work/action towards something' and we explain its effects to help you create positive motives for every action taken, which in turn forms healthy habits and thought patterns.
The course traces happiness to its source and lays out the classified 'states' we go through each day. We also investigate the causes of unhappiness, both internal and external, before examining the principle of positive thinking and the idea that what you think is what you become. We demonstrate the 'art' of gratitude and contentment, since our fulfilment starts within and not with material possessions. We lay out effective laws of relationships that suggest when to enter into one and teach you how to heal the mind through forgiveness. Superstition is a widely held but irrational belief that affects some area of our lives and we break down how they form to help you decide if they should form part of your daily ideology. The course establishes the value of doing one thing at a time and takes you through the steps of making good decisions while working towards chosen goals.
This is a practical course that identifies the principles that can help you to happily strive for success in anything you set your mind on. We provide a panoramic view of how the mind works as many people lose their way simply because of unhealthy thought patterns and mental habits. This course puts you on the right path to creating stable and balanced thought processes that can ensure a beautiful and fulfilled future. Remember that what we think is what we become so sign up to cultivate a healthy mind.
Start Course Now