Home Automation: How to Make a Smart Home
Save power, improve security and reduce risks by learning how to install smart devices around your property.
Publisher:

Smart Homes School
This free online course will teach you step-by-step how to turn your house into a smart home, reduce energy consumption, create a comfortable family environment and protect your property against intruders. Enrolling will save you hours of frustration and fast-track building your own smart home by providing practical tips and breaking down the different devices and options available to you.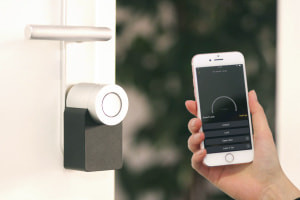 Duration

5-6 Hours

Accreditation

CPD
Description
What if you could use smart home products to improve your family's security, safety and enjoyment levels? Here are key everyday examples of how smart home automation could work in your life:
1. Use your mobile phone to remotely view your home via a smart camera, arm your security alarm, and adjust your lights and thermostats while away.
2. Be reassured that your home and family are safe and protected, whether you're there or not.
3. Receive text and email alerts on your smartphone once an intruder enters your home or smoke is detected.
4. Save on your energy bills.
Smart homes can deliver major benefits to homeowners but you are faced with choosing between a myriad of smart device brands, trying to piece everything together, and often the overwhelming feeling of transitioning to a smart home...
This step-by-step course will take you from having no smart devices installed in your house to living in a fully functional smart home. It begins by helping you to make the right decision as to how to improve your Wi-Fi connection to support your new smart home. Next, you will study digital assistants in the context of a smarter home and learn how to use smart home alarm devices to improve your property's security levels. The material then discusses various smart lighting options. You will be taught how to implement smart thermostats to reduce your electricity bill and how to install smart cameras to improve your family's security levels. Next, see how to arrange a number of safety devices to reduce the risks of fire and carbon monoxide poisoning. The final module explains how to unleash the magic of smart homes by implementing various types of automation. The course comes with a series of informative questions to help your revision and study, before you take the final assessment (and apply for certification). Resources include the 'Essential Guide to Smart Home Safety & Security' book.
Whether you're confused about how to get started in digitizing your house or you need some guidance on the next steps, this comprehensive course takes the guesswork out of creating your very own smart home. The programme shows you everything you need to know to turn your house into a smart home, which will reduce power consumption, create a comfortable family environment and protect your property against intruders.
By the end of the course, you will have a strong understanding of how to make a new smart home. Start the road to digitization by enrolling now!
Start Course Now