Basics of Computer Networking
Explore the fundamentals of computer networking, troubleshooting and network intrusion in this free online course.
Publisher:

Stone River eLearning
The use of computers and computing has ingrained itself in our day-to-day tasks. Everyone thus requires basic computer skills, regardless of profession. Remote working and interactions have been made possible through global data networks. This course will give you a thorough introduction to computer networking, teaching you about the key network elements like its topologies, IP addresses and how to avoid network intrusions.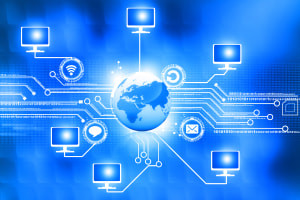 Duration

1.5-3 Hours

Accreditation

CPD
Description
Since the development of computer technology, networking has become incredibly important. Users frequently want to share files and resources locally or globally. In this course, we provide in-depth instruction on computer networking fundamentals. Although you will learn about the components and advantages of a computer network and the concepts of local area networks, this course first introduces you to a computer network, defined as the 'interconnection of two or more computers'.
The network topology is the arrangement of nodes within a local area network (LAN). We will teach you the various types of network topology and their characteristics, after which we'll discuss the different kinds of IP addresses and introduce you to the OSI model and IEE 802.x standards for the OSI model. Recognise the dual IP stack, default gateway and networking tools. The last topics explore remote desktop services, the internet and the World Wide Web, the use of VPNs and routers in networking, as well as advanced TCP IP commands.
'Network intrusion' is the term for any attack on a computer network, including traffic flooding, trojans, worms, brute force attacks, denial of service attacks and port scanning. We'll show you how to spot potential network intrusions and what steps to take to guard against them in the future. Anyone who wants to learn more about computer networks should take this course. Learn a new skill by enrolling in this course right away.
Start Course Now