Fundamentals of Music Theory
Learn the Fundamentals of Music Theory using either Piano or Keyboard with this free online Music Course.
Publisher:

Costas Christodoulou
For as long as we can remember, music has been a part of our culture and our everyday lives even before our birth. If the skills and techniques studied in this course are applied correctly, music becomes easier to understand and to play on a piano. The structure of the course is divided into three main subjects, "Note Theory", "Main Theory", and "Harmony Elements", which are explained with instructive videos and images.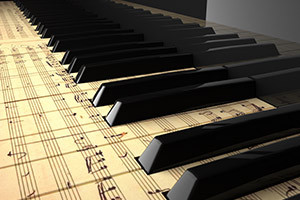 Duration

6-10 Hours

Accreditation

CPD
Description
Many people around the world can agree that music can be compared to a beautiful and unique language. However, with music, you do not always need words to convey a stunning musical piece that can touch a heart for a lifetime. In this free online course, we will grasp the fundamental elements of the music language. Anyone that wants to enter the fascinating world of music can master valuable skills and techniques with the easy to follow videos included in this course. Music students who desire to understand the fundamentals of music theory better will benefit greatly from applying the knowledge taught in this course. We will analyze in-depth three main subjects that are, "Note Theory", "Main Theory", and "Harmony Elements". We will discover how we can begin to use a musical keyboard fluently by applying methods learned throughout this course. You will learn the root knowledge of a piano, one of the most influential and often referred to as the king of musical instruments.
We will begin by studying how the letters in music, referred to as notes in this course, are circles written on the five lines of the music staff, and they are represented by the first seven letters of the alphabet. Music is a straightforward language that is based on simple logic. By applying the logic and skills you acquired throughout this course, you will be able to see that music theory is much easier to grasp and understandable. We will then discover harmony elements, and you will have the opportunity to put them into practice in order to hear how all the pieces work in music. The tutorial videos can be followed along on the piano keys, allowing you to learn piano playing elements.
Music is perhaps the only art that can involve everyone, regardless of their culture or country. This includes various forms of music, from singing, playing an instrument, or just listening. By studying this course, you will have a strong knowledge that will give you the confidence to learn faster and successfully play the piano better. This course is available to all ages and backgrounds. If you wanted to learn music at one point in your life, but you did not, and the desire to master music is still there, then this course is for you. It is never too late to play music triumphantly. View in this course, different musical notes, correct note placements on a musical staff, and much more. You will be able to follow along with the instructor on your own personal keyboard. Anyone that wishes to enter the musical field can benefit from learning about the Fundamentals of Music Theory.
Start Course Now