Music Theory Fundamentals for Songwriters
Master the skills of songwriting, composition and get your ideas out into the world with this free online course.
Publisher:

Michael Emenau
This free online course will introduce you to basic music theory and then cover in great detail musical terms such as notes, octaves, keys and more. You will learn how to write and play chords in different keys, play major and minor scales, use scales to develop great melody as well as compose songs without having to read any music. Start this free course today and get your thoughts to the world through songwriting.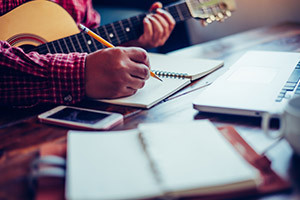 Duration

3-4 Hours

Accreditation

CPD
Description
Do you have trouble writing songs? Or do you want to make your own music but aren't sure where to begin? If that's the case, this course is for you. As an artist or songwriter, writing a great song that will get your message across and grab the attention of your listeners requires a typical understanding of music theory. In this course, you will be taught the music theory you need to know to start writing your own songs and creating your own music. This course has been designed specifically for singer-songwriters and composers interested in popular music. You won't get bogged down trying to learn things that won't be necessary to write songs in pop, rock, folk, country, EDM and many other musical genres. Michael Emenau will walk you through the music theory you need in easy, step-by-step lessons designed to inspire you as you learn. In this course, learners will gain an in-depth understanding of musical terms such as notes, chords, keys and more. You will learn how to play major and minor scales on a piano and guitar as well as the various intervals in music.
Familiarity with chord vocabulary will make you confident and comfortable in playing rhythm and also gives you the courage to play with other artists. Learning chords is the foundation of every other thing that is to come in your music journey. In this course, learners will study the way chords are built and learn how to play these chords in different keys. You will gain an understanding of how to play both minor and major chords by learning their shapes. The course also reviews extensively advanced chords such as the dominant 7 chords and the diminished chords. You will learn about chord progressions, relative keys, diatonic chord tones, time signatures in music and how they are being used in different songs. Moving on from there, you will be shown how to transpose a song to fit your voice, as well as tips, tricks and exercises to help solidify your understanding of common chord progression and transposition.
A great melody is vital in capturing and holding on to your listener's attention. Songwriters and composers use melodies to get their messages across and connect with their audience; it is the part that audiences sing along to and remember the most in a song. In the final part of this course, learners will study the technique of finding and writing melody as well as using the concept of hook in songwriting to catch the ear of the listener. This course will help you quickly get your ideas out into the world. It will enable, embolden and empower you to get the song that is floating in your ears out into the world for everyone to hear. This course is taught using both piano and guitar. Having a basic knowledge of the piano and the guitar is a plus but not necessary. You don't need to know how to read or write music for this course. In this course, you will be given guidelines that will help you create, write and compose your own music. Check out this course and start composing great songs today.
Start Course Now