Find the Right IT Job
Learn how to find the right Information Technology (IT) job and develop your IT skills with this free online course.
Publisher:

Imran Afzal
Would you like to understand how to find the job of your dreams in Information Technology (IT)? This free online IT course will help guide you through this process with specific, easily implementable methods. Study the definition of IT and its components, the various operating systems, applications and software as well as IT security and storage, virtualization and cloud technology so that you can jump-start your career.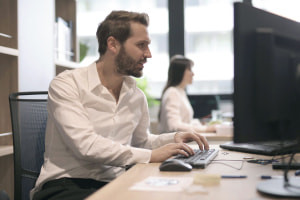 Duration

1.5-3 Hours

Accreditation

CPD
Description
Finding the right job in the field of Information Technology (IT) is very challenging. It is all the more demanding since IT is such a vast industry, with so many areas of specialization and innumerable jobs. This information technology course introduces you to these disciplines and positions, enabling you to find the right IT job to fit your career aspirations. How would you define information technology? As you transfer information or data from one location to another or from one person to another through technology, you are involved in IT. Technology refers to computers, including personal computers, servers, tablets and smartphones. It is worthy to note that it is expected that the number of IT jobs will grow in the long-run, however, many companies find it tough to find suitable candidates for these positions. The good news is that nowadays, IT professionals earn more money than many other professionals. This course allows you to find the right IT job to make you a confident and sought-after job-seeker.
Before unravelling the various IT jobs, you will learn more about IT, notably the operating systems, data network, and security. In the operating system section of this course, you will learn that it is the most crucial part of a computer that performs basic tasks such as recognizing input from the keyboard or sending output to the display screen. The operating system keeps track of files and directories and also controls peripheral devices such as disk drives and painters. In a data network, network computing devices exchange information via a data link. IT security or cybersecurity protects the computer system from theft or damage to its hardware, software, or information. IT security is also about protecting the computer systems from disruption or misdirection of the service(s) that they provide. IT jobs differ from one type to another, from running the operating system to the computer system's security via the data network.
As you work through the course, you will learn that you may be an Active Directory (AD) administrator or a Domain Name System (DNS) administrator if you want to have an IT job related to the operating system. In your search for the right IT job, you might want to have a job associated with the data network. In this case, a network administrator, a network engineer or a security engineer are advisable. Likewise, you may opt to be a network architect, an IT security analyst, or a firewall administrator. If you have chosen to specialise in IT security, an IT security analyst, a security engineer, or even a cybersecurity specialist are all possibilities. Whatever your field of specialisation or interest in IT might be, there are various opportunities within countless businesses. This course is perfect for students that would like to specialize in IT or professionals in IT who want to advance their IT careers and change their area of specialization.
Start Course Now