IT Management - Software and Databases
Learn more about how to choose, maintain, and update Database Management Systems for IT management.
Publisher:

Global Text Project
This free online IT management course will teach you about a manager's role in the building and implementation of an information systems. Information systems are critical in every business, and managers play a fundamental role in the initiation, design and implementation of a new Information System. This free online course will be invaluable for managers involved in the creation and design of new information systems.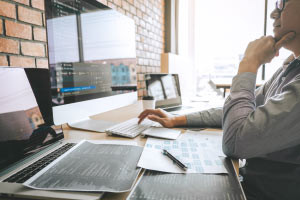 Duration

1.5-3 Hours

Accreditation

CPD
Description
DBSMs are crucial for having a functioning modern office where all files are readily available at the click of a button. Being able to manage and maintain these systems is therefore an essential skill for any aspiring IT manager. This course will guide you through all the essential elements of this database technology. The course first introduces you to the most common database software used in modern organizations. It then outlines the development of important business software applications and explains the use of keys, relations, and data models in a Database Management Systems.
You will then learn the most important options and considerations an IT manager has to make when choosing and updating these systems. By the end of the course you will have a strong understanding of DBSMs, their development, maintenance, and crucial role in a modern office. This will be a great boost for your professional skill set, and your résumé.
With these systems being so important, every IT manager needs to understand them and how they are best chosen and maintained. Despite this, DBSMs remain some of the most misunderstood systems in the modern workplace. So give yourself an advantage over the competition. By taking this course you'll learn some essential information, improve your CV, and get ahead of the crowd. Not bad for a free course that only takes 2 hours.
Start Course Now