This free online CompTIA A+ course is the first part of a computer industry-recognized credential that certifies the competency of PC service specialists. It is backed by over 50 major computer hardware and software manufacturers, vendors, distributors, resellers, and publications. You will study the soft skills needed to become an IT professional, the proper techniques for handling computer components, system components, motherboards, and more.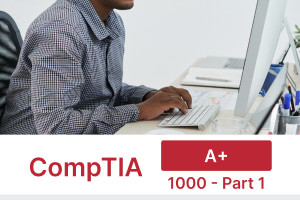 Duration

6-10 Hours

Accreditation

CPD
Description
This free online course, CompTIA A+ 1000 - Part 1, will provide you with an understanding of the skills needed to become a PC Service Specialist. You will learn IT Professional soft skills. You will be able to explain what is required to maintain safety for you and computer components. You will also learn about an overview of the system components.
This course then explains types of memory, understanding BIOS and CMOS, as well as hard drives and storage devices. You will learn about power supplies and voltage. You will also learn about ports, cables, connectors, as well as input and output devices.
This course then wraps up discussing other types of hardware you will encounter as a PC Service Specialist. You will learn about managing printers, mobile devices, multimedia, and laptop computers. Students will also learn through demonstration the practical, real world application of these skills. By taking this course you will learn the core skills required to begin a career servicing computers and other hardware as a PC Service Specialist. So why wait? Start learning about the exciting world of computer service today.
Start Course Now