This free online CompTIA Security+ course focuses on Exam SYO-501. It will give you a better understanding of how to identify security fundamentals and threats, analyze risk, and conduct security assessments. You will study how to implement a network, host, and software security as well as learn to manage identity and access, implement cryptography and operational security, address security issues, and ensure business continuity.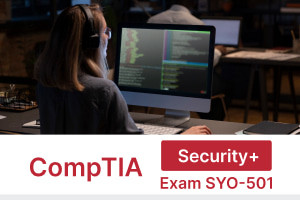 Duration

10-15 Hours

Accreditation

CPD
Description
This course, CompTIA Security+ (Exam SYO-501), will provide you with an understanding of identifying security fundamentals. You will learn about basic security controls, identifying basic authentication, authorization concepts, and basic cryptography concepts. You will be able to explain the process of analyzing risk. You will also learn about performing a business impact analysis.
This course then explains conducting security assessments, identifying vulnerabilities, assessing vulnerabilities, and implementing penetration testing. You will learn about implementing host and software security. You will also learn about implementing network security, configuring network security techniques, and secure network design elements.
This course then wraps up discussing managing identity and access. You will learn to implement identity and access management, configure directory services, configure access services, and manage accounts. By taking this course you will learn to implement cryptography, identify advanced cryptography concepts, select cryptographic algorithms, configure a public key infrastructure, enroll certificates, back up and restore certificates and private keys, revoke certificates, troubleshoot common security issues, respond to security incidents, and implement forensic procedures. So why wait? Start learning the skills needed to become an expert in security and ensure business continuity today.
Start Course Now