English Course - English for Travel (Elementary level)
Learn how to describe places and things related to travel with this free online elementary level English course.
Publisher:

Advance Learning
This free online English language course teaches you about using English for travel. If you're going to an English-speaking country, why not learn some important English terms and phrases first? This course will teach you how to use English nouns and adjectives to describe things and use positive and negative English words and phrases in a conversation. Make your next trip to an English-speaking country a lot easier with these lessons.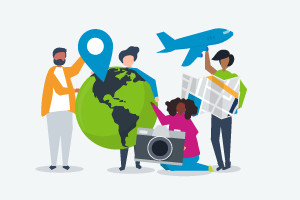 Duration

1.5-3 Hours

Accreditation

CPD
Description
This English course will first introduce you to things and places that are associated with holidays and travel. You will learn different adjectives that will help you describe things easily. The course will introduce you to expressions that are commonly used to describe travel experiences. You will also study regular adjectives, comparatives, and superlatives such as tall, taller, and tallest as well as irregular adjectives such as bad, worse, worst.

Next, you will learn why we use the word 'than' in comparative phrases such as 'I like coffee more than tea'. You will learn how to ask and give directions as well as study imperative English verbs and their correct usage. The course will also teach you why you should always use the article 'the' before superlatives such as the coldest, the biggest, the prettiest.

The interactive learning content and audio recordings by native speakers included in this English grammar course will help you develop your reading and listening skills, load you up with new nouns and adjectives, and help get you ready for the holidays. If you're gearing up for your next trip to an English-speaking country, check out this course now and get ready for your next English adventure!
Start Course Now
Need Some Help?
What is English for travel?
What are the best free online English for travel courses?
How much does an online English for travel course cost?