Beginner Level English Course - Present Continuous
Learn how to discuss events as they unfold in the present continuous tense in this free online English grammar course.
Publisher:

Advance Learning
This English language course covers the present continuous tense and explains how to talk about an action or event that is currently happening. We draw on examples, exercises and audio clips that feature native English speakers to help you work on your accent, listening skills and pronunciation. We can make it easier for you to understand and engage in an English conversation by breaking down the rules you need to know into easy steps.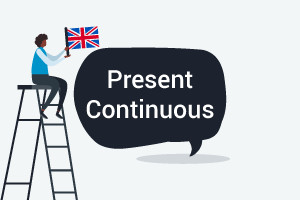 Duration

1.5-3 Hours

Accreditation

CPD
Description
This English speaking course shows you how to use the present continuous tense in English to make statements like, "He is talking to his students." We explain how to ask questions in present continuous tense such as, "Are they playing in the park?" We also lay out some standard phrases that are often used to make phone calls.
The course then teaches you how to answer questions in the present continuous tense (for example: "I am cooking beef stew for dinner."). We study the different questions and phrases that are often used to make a phone call to a company (for example: "Am I calling the head office?"). We explain how to offer brief answers to simple questions (for example: "Are they playing basketball?" and "Yes, they are.").
The interactive examples, audio files and exercises in this English grammar course will teach you everything you need to know about the present continuous tense form of verbs. We demonstrate that adding 'ing' to verbs lets you easily make sentences and ask questions in English. Our audio files are accessible via mobile phones and tablets so you can practice and learn anytime and anywhere you want. Sign up to quickly improve your confidence as you learn English.
Start Course Now