English Course - Articles and Emphasis (Upper-Intermediate Level)
Learn about English instructional language, articles, and emphasis with this free online English grammar course.
Publisher:

Advance Learning
This free online English language course will teach you about Articles and Emphasis. In this course you will learn about instructional English grammar, different phrases used for giving instructions, and the types of English articles. Take this free online course today and familiarize yourself with the use of articles, emphasis, and instructions with the help of our clear, simple, and easy to understand written and audio examples.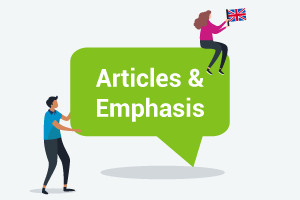 Duration

1.5-3 Hours

Accreditation

CPD
Description
This course will first introduce you to Instructional Phrases. You will learn that they start with a verb and contain no subject (as in, the person who does the action is not mentioned). The course will then teach you useful phrases that you can use for giving instructions. You will study indefinite and definite articles including the rules of their proper usage. You will also learn when to use articles with adjectives and time.

Next, you will study the English articles of place and learn the rules of when to use them. The course will also teach you how to use English adverbs with certain adjectives as well as auxiliary verbs for adding emphasis. You will then delve into phonetic sounds, studying the phonetic translations of different sounds and their basis. You will also examine a list of the markings we use on English written text to present it in different ways.

Articles can be confusing for some English learners but once you have gained an in-depth understanding of the rules and exceptions, everything will become much easier. This upper-intermediate level English grammar course is designed to make learning about the different ways to use articles and emphasis simple and enjoyable. So why wait? Check out the course now and gain a new English language skill in no time!
Start Course Now