English Course - Gerunds and Infinitives (Upper-Intermediate Level)
Learn how to summarize articles, compare adjectives, and use gerunds and infinitives with this free English course.
Publisher:

Advance Learning
This free online English language course will teach you about gerunds and infinitives. In this course you will learn how to identify gerunds in a sentence, and study important vocabulary, adjectives, and phrases that will help you to describe people, places, and things in English. Take this free online course today and improve your English with our easy to understand practice reading texts, and audio recordings from native speakers.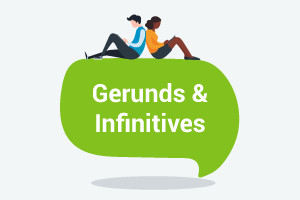 Duration

1.5-3 Hours

Accreditation

CPD
Description
This course will first teach you how to turn verbs into nouns by adding 'ing' at the end of the word to form a gerund. You will cover the use of infinitives in English gerunds including the use of subject and object as well as how verbs, prepositions, and noun phrases can be used with English gerunds. You will also learn how infinitive clauses - which typically begins with the word 'to' - differ from continuous clauses.
Next, you will study why the adjective comes before the infinitive in certain sentences. You will also learn how English conjunctions, prepositions, and adverbials are used to link clauses together. The course will then teach you the difference between the adjectives 'big' and 'great' as well as how to use them in a sentence. You will also study an effective method of summarizing written articles and put it into practice with some exercises.
This course is perfect for intermediate English learners who are ready to learn more about English grammar, specifically the gerunds and infinitives. The interactive presentations, assessment questions, as well as the audio presented by native speakers will also greatly develop your reading and listening skills. Check out the course today and enhance your English skills a little more in just a few short hours!
Start Course Now