English Course - Gerunds and Infinitives (Upper-Intermediate Level)
Learn how to use gerunds and infinitives and summarize short articles in this free online English grammar course.
Publisher:

Advance Learning
This English speaking course teaches you about gerunds and infinitives. We explain how to identify and correctly use gerunds in a sentence and provide important English vocabulary, including adjectives and phrases that help you to describe people, places and things. This course can boost your confidence in English and includes audio clips to help you perfect your accent, pronunciation and listening skills.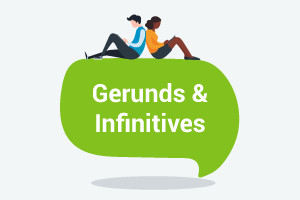 Duration

1.5-3 Hours

Accreditation

CPD
Description
This English grammar course teaches you how to form gerunds and turn verbs into nouns by adding 'ing' to the end of the word. We cover the use of infinitives as subject or object and explain how verbs, prepositions and noun phrases can combine with gerunds. We also show you how infinitive clauses - which typically begin with 'to' - differ from continuous clauses.
Next, we establish why the adjective comes before the infinitive in certain sentences. You will also learn how English conjunctions, prepositions, adverbs and adverbials are used to link clauses together. The course then examines the differences between the adjectives 'big' and 'great' and shows you how to use them in a sentence. We also outline effective methods of summarizing written articles and provide exercises to help you practice your new skills.
This course is aimed at intermediate English learners who are ready to discover more grammar, specifically gerunds and infinitives. Our interactive presentations, assessments and audio clips will help you polish your reading and listening skills. Sign up to learn English grammar and boost your confidence in this global language.
Start Course Now