Depression: Myths and Causes
Learn more about depression to better support yourself or someone you know with this free online course on depression.
Publisher:

CourseFlix
In this free online course, you will gain an understanding of depression as a disorder. You will study the different causes of depression and the myths surrounding the disorder. You will gain an accurate and in-depth understanding of depression as a disorder, and come to separate fact from fiction. Understanding what causes depression will allow you to support a recently diagnosed loved-one, or yourself, to navigate the journey towards recovery.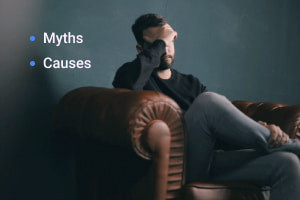 Duration

1.5-3 Hours

Accreditation

CPD
Description
This course will begin by introducing you to the definition of depression. You will be given an overview of what depression actually is. You will identify some of the causes of depression and discuss the severity levels of the disorder. Furthermore, you will outline the different types of treatments available.
The learner will read about causes of depression. You will be able to explain why depression can have multiple causes. You will discuss medical and trauma-based causes of depression. Finally, you will learn why depression is not a disease and identify other common myths associated with this disorder.
In addition to the invaluable insight this course provides, there are also optional worksheets and activities to help with your revision and study. By the end of the course, you will have a strong understanding of depression, its causes and associated myths. This is an important and educational course which rewards you with an in-depth level of relevant knowledge. The course will give you much more insight into depression. This may be beneficial in recognising symptoms in yourself or supporting a loved one. So why wait? Start learning today.
Start Course Now