Depression: Treatment, Therapies and Triggers
Learn more about depression to better support yourself or someone you know with this free online course on depression.
Publisher:

CourseFlix
In this free online course, you will learn about the traditional treatments for mild, moderate, and severe depression. You will analyse different treatment options including CBT, self-help groups and antidepressants. You will discover alternative treatment options for depression. These include massage therapy and St. John's wort. This course details common triggers of depression and also discusses recovery and life after depression.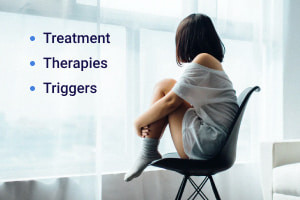 Duration

1.5-3 Hours

Accreditation

CPD
Description
This course will begin by introducing you to the different treatment options available for those with depression You will learn about traditional and alternative treatments for this disorder. There are many different potential triggers of depression. Therefore, it is important to be able to recognise these triggers and also be prepared to support a loved one with depression.  
The learner will read about the potential lifestyle changes that can be made to aid those struggling with depression. These include changes to diet, exercise and socialising. You will also learn about the possibility of making a full recovery and look at life after depression. You will learn the appropriate way to talk about depression and the questions which are acceptable and constructive to ask someone with depression.     
In addition to the invaluable insight this course provides, there are also optional worksheets and activities to help with your revision and study. By the end of the course, you will have a strong understanding of depression, triggers and treatment options. This is an important and educational course which rewards you with an in-depth level of relevant knowledge. The course will give you much more insight into depression. This may be beneficial in recognising symptoms in yourself or supporting a loved one. So why wait? Start learning today.
Start Course Now