Baking and Desserts for Beginners
Learn useful methods and simple techniques to make desserts and baked goods in this free online cooking course.
Publisher:

NuYew
Desserts and baked goods - like cakes, biscuits and breads - are a vast category of dishes. This course will help beginners understand the fundamental techniques and methods for baking, and preparing desserts. Learn how pastry should be prepared and how vital fermentation is for baking with yeast. Study how ingredients like dairy, chocolate and sugar can be combined successfully and learn to break down simple baking and dessert recipes.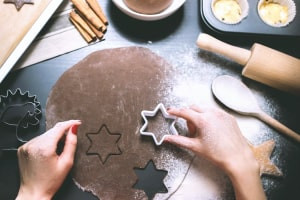 Duration

5-6 Hours

Accreditation

CPD
Description
Knowing how to bake and make desserts will open you to a vast category of dishes: hot and cold puddings, cakes, biscuits, breads and pastry are all covered in this course that has been specially designed for beginners who want a theoretical grounding the methods and techniques of baking and creating desserts. Learn how fruits, dairy, chocolate and sugar can be combined to make dishes that are traditionally eaten at the end of a main meal or between meals for celebrations or a snack. See how hot and cold desserts differ, and how setting agents are used. Different types of pastry, usually the responsibility of specialist pastry chefs in restaurants, are covered, including how to handle this delicate ingredient. A good knowledge of pastry will allow you to stretch your menus as they are used not only for desserts but also for canapes, starters and mains courses. Any competent cook must be familiar with core pastry recipes and techniques.
Biscuits, cakes and sponges encompass all things sweet and baked. They have many applications but are most commonly used as the basis for sweet desserts or as accompaniments to an afternoon tea. Learn what the word 'biscuit' is derived from and why they used to literally be baked twice – and why we only bake them once today. Find out which two categories most biscuits fall into, and what the exceptions are. Like desserts, cakes also form a huge category of their own. You will learn about everything from heavy fruit-based bakes to light, airy sponges. Next, you will find out why different methods of combining ingredients, like creaming, rubbing or whisking, produce cakes that differ not only in appearance but also in texture.
When baking, it is vital to be aware of fermentation as some dishes require the dough to ferment. Discover what fermentation really is and how the chemical reactions of sugar and yeast lead to the creation of a specific gas, and why this is important for making bread. You will see which of the more than 1 500 types of yeast known to us are used in the kitchen. This course will analyze diverse, easy-to-follow recipes and cooking methods for making desserts and baking. Anyone with interest in food, with the focus of specializing in desserts and pastry products, will gain a lot from the material. This course will be especially beneficial to those who want to cook and create sweet treats as it teaches you the essential techniques and methods to do so. Stay-at-home parents, students, carers and others can benefit from learning more about baking and making desserts in this beginners' course.
Start Course Now