Understanding Drainage and Water Distribution Systems
Learn more about drainage, water distribution systems, and water treatment and purification with this online course.
Publisher:

USAID
This free online Drainage and Water Distribution Systems course will introduce you to how drainage and water distribution systems work, as well as how water is purified and treated in water treatment plants. Within any building, the drainage, waste, vent, and water distribution systems are installed and maintained by plumbers. With this course, you will gain a thorough understanding of how these plumbing systems work.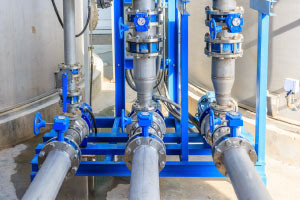 Duration

1.5-3 Hours

Accreditation

CPD
Description
Knowing how drainage systems work is essential for every plumber. This course will first discuss how waste enters the Drain Waste Vent(DWV) system from the fixture drain and into the building's sanitary pipe systems. You will learn the basic parts of a P-trap, the different types of DWV fittings used by plumbers, and the basic components of a conventional septic tank system. In addition to that, you will study the health issues related to the improper design, installation, and maintenance of DWV systems.

Water supply and distribution play a very important role in plumbing systems. This course will discuss the components of the water distribution system including pipes, valves, and water heating and treatment equipment. You will study the purification process that city water undergoes before it reaches the faucet, the common types of valves used in water distribution systems, and the steps involved in bringing water from the main into the building.

Access to clean water is only possible through proper plumbing. By the end of this course, you will have gained a strong understanding of how drainage and water distribution systems work, which will be an essential boost for your plumbing skills. This will open up a much wider range of job opportunities to you, and give you real assistance in your road to becoming a professional plumber. So why wait? Check out the course today and keep your learning journey moving forward.
Start Course Now