Introduction to Plumbing Tools and Drawings
Learn more about the essential tools, drawings, and math operations in the plumbing trade with this free online course.
Publisher:

USAID
This free online course will teach you about the different plumbing tools, drawings, and math operations that help plumbers perform their job to the highest standard. The right tools are essential in allowing plumbers to apply their theoretical knowledge into the creation of functional water supply and sanitary systems. It is imperative that plumbers understand each of the tools at their disposal and how to operate them effectively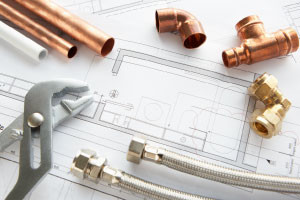 Duration

1.5-3 Hours

Accreditation

CPD
Description
While most of the tools plumbers work with are used by professionals from other trades, plumbing has its own tools as well. This course will introduce you to the hand and power tools that are specific to plumbing. You will study the types of tools used for measuring and layout, leveling, cutting, drilling, assembling, and holding. You will also learn the basic steps involved in using a drill and study the guidelines for working with hammers.
Knowledge of basic math skills is vital for accomplishing any plumbing task. These skills help plumbers to make precise calculations and install accurate systems. This course will teach you the math operations for calculating pipe lengths, which include addition, subtraction, multiplication, division, percentage, fractions, and conversions. You will then study the difference between thread makeup and fitting allowance in measuring pipe length. You will also learn to read and interpret construction and plumbing drawings accurately.
The plumbing profession places both physical and intellectual demands on plumbers. While the physical aspects of the job such as using tools to install and maintain plumbing systems are clearly visible, the intellectual requirements of the trade are skills that are used in the background. This course will make sure you acquire both skills to help you become a truly professional plumber. So, check out the course today and start boosting your knowledge in no time at all.
Start Course Now