Introduction to Plumbing Pipes and Fixtures
Learn more about pipes and fixtures, as well as sanitary and safety principles, with this free online plumbing course.
Publisher:

USAID
Alison's free online Introduction to Plumbing Pipes and Fixtures course teaches about the installation of long-lasting plumbing pipes as well as the important materials used to make plumbing pipes and fixtures, including plastic, copper, cast iron, carbon steel, and CSST. You will also learn that for a building to be considered habitable, it has to be connected to water and gas supply systems and have provisions for handling wastewater.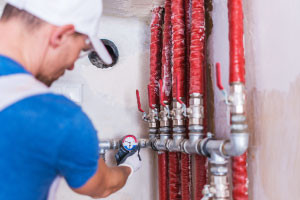 Duration

1.5-3 Hours

Accreditation

CPD
Description
Plastic pipes have widely replaced metal pipes and fittings, and are commonly used in the plumbing trade today. Plastic is chemically inert, resistant to corrosion, and requires no soldering or welding. This course will teach you the advantages and disadvantages of working with plastic plumbing materials. You will also study the main uses for copper pipes and fittings in plumbing, and look into the advantages of using cast-iron for plumbing pipes and fittings.

Carbon steel pipes are used for hot and cold water distribution. This course will discuss the two common types of carbon steel pipes used by plumbers. You will study the features of pressure fittings such as tees, elbows, and unions used for threaded carbon steel pipes. You will also look into the advantages of using CSST for gas piping, the difference between a plumbing fixture and faucet, the basic principles of sanitation and safety as put forth in the National Standard Plumbing Code, and more.

This Introduction to Plumbing Pipes and Fixtures course is the third in the series of plumbing courses. While the first two introduces the trade and plumbing tools and drawings, this course goes a step further by teaching you about plumbing pipes, fittings and valves, and fixtures, along with the principles of sanitation and safety. So check out the course today, and enhance your plumbing skills in just a few short hours.
Start Course Now