Standup Comedy Complete: Humorous Public Speaking, & Becoming Funnier
Comedy is all about timing and this free online public speaking course helps you create and perfect your act.
Publisher:

Chester Sky
There's no greater rush for a performer than standing in front of an audience and hearing their applause - unless you're a comic. Then the greatest rush is hearing their laughter go on and on and knowing it's because of you. This course shows you how to build a stand-up act that includes everything from writing and performing jokes to spicing up everyday stories with humour. Sign up to amplify your comic gift with a few public speaking tweaks.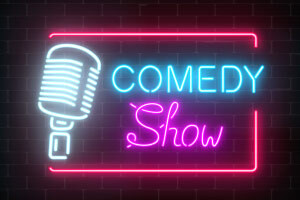 Duration

1.5-3 Hours

Accreditation

CPD
Description
Performing good stand-up comedy requires more than a sparkling sense of humour: effective performance is built on a foundation of polished public speaking skills. You may make your friends laugh when you're all out together but amusing crowds of strangers is much more difficult. This public speaking course teaches how to take your existing skills to the next level and move from an amateur to a professional space.
Stand-up comics don't craft their jokes on the spot and there's no conversation to provide inspiration, so they prepare carefully to hone a seemingly spontaneous and humorous conversation with the audience, which takes practice, hard work and mastery of the principles covered in this course. This course guides you through the process of building an act from scratch. We lay out various comedic styles to help you choose one that works best for you. Do you have a dry sense of humour? Are you macabre? Do you like puns? We study the comedic routine of your instructor as you work on finding your own style and voice.
That is only one step in the right direction and we then guide you along the rest as you learn how to create innovative jokes. Every stand-up comedian needs to be a strong public speaker to succeed. This skill may not come naturally to you but mastery of the basics improves your stand-up act dramatically. This public speaking course provides tips, tricks and techniques to help you become the best comedian you can be.
Start Course Now