Skills for Speaking Effectively: The Art of Speaking
Learning effective public speaking skills and positive body language can be easy with this free online course.
Publisher:

Advance Learning
This free online public speaking course teaches you about the art of effective public speaking. Have you ever seen an amazing public speaker who draws your attention like a magnet? Do you ever wish you could have a talent like that? Public speaking is a learned talent which anyone can pick up with enough time and patience. In this course, you will learn public speaking skills which help you impress your friends, colleagues, and business partners.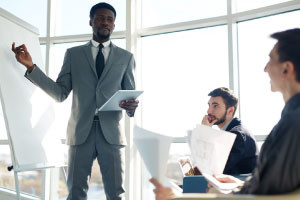 Duration

1.5-3 Hours

Accreditation

CPD
Description
In this free online speaking course, you will first study the difference between speech and writing. You will then learn about the most important communication models. Here, you will study the filters of communication and how meaning is created by people, their experiences, and education. You will also study the most essential kinds of vocabulary such as content, function, connotative, abstract, concrete, and obsolete words. Once you master these, you'll be on your way to reaching your speaking goals.

Next, you will learn about the structure of a sentence and study modifiers, parallel form, indefinite starters, and dangling modifiers. This will help you write even more interesting messages while making them clear and precise. Once you have mastered your verbal skills, the course will show you to write effectively. Here, you will learn the Golden Rules of Writing and will be provided with a writing checklist which you can use to make your future writing compositions really impressive.

Almost everyone is a little afraid of talking to large audience. By taking this course and mastering the art of public speaking, you can overcome this fear. This free speaking course will be of great interest to anyone who wishes to speak or write more effectively. It will also be very helpful for teachers, and those learning English as a second language. So, check out the Skills for Speaking Effectively: The Art of Speaking course now and start learning how to grab your audience's attention.
Start Course Now
Need Some Help?
What are the best free online speaking courses?
How much does an online speaking course cost?