Public Relations: Optimize Systems Theory and Stakeholder Management Practices
Learn how to protect and enhance your organization's reputation with an understanding of PR research and theory.
Publisher:

Saylor Academy
This free online course in public relations will teach you how to optimize systems theory and stakeholder management practices. Public relations, or PR, is the practice of protecting and enhancing the reputation of an organization or individual. In this course, you will learn about organizational principles, stakeholder prioritization, the research practices of modern public relations, the organizational theory of public relations, and more.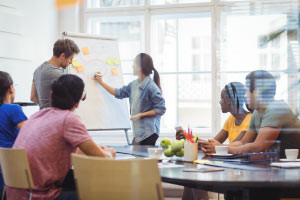 Duration

1.5-3 Hours

Accreditation

CPD
Description
This course will discuss the organizational factors and structures that apply to public relations. You will learn how the systems theory approach and the stakeholder management approach impact PR policies. You will look into the different types of stakeholders/publics and study the strategic approaches for managing them. This course will also discuss why research plays a vital role in public relations management, both in making it function strategically and in adding to its credibility as a management function.

Conducting both formative and evaluative research is vital in modern public relations management. This course will discuss the difference between formative and evaluative research. You will learn that formative research is conducted to learn what publics know and want while evaluative research shows the impact made through communication efforts after a public relations campaign. You will also study the usefulness of formal research, informal research, quantitative research, and qualitative research.

The culture and structure of an organization have an important impact on its communication function. Upon the completion of this course, you will have learned much more about the organizational and research theory that will help you achieve your organization's PR needs while simultaneously having acquired the skills to manage the stakeholders in your organization. Check out the course and learn more about PR optimization within the modern business environment.
Start Course Now