Media Training for Politics, Authors and Service Professionals
Learn how to use the media training techniques taught in this free online course to become an effective communicator.
Publisher:

TJ Walker
In this free online course, we will introduce you to the technique used to create messages with lots of soundbites for interviews. You will learn how to communicate your messages effectively to the media and recognize how to handle crises. This course will teach you how to answer reporters' complex and challenging questions and the importance of looking good on TV. Start your learning journey and become an effective communicator today!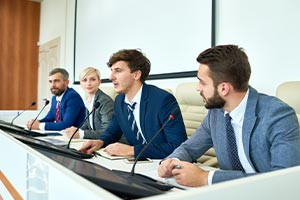 Duration

1.5-3 Hours

Accreditation

CPD
Description
This course is designed to give you an understanding of how to communicate with the media. As a business owner looking for ways to make your brand more successful, it is vital to engage with the media. You will be taught the techniques to employ when relating with the media. Suppose you are an author who has written some books but don't know how to promote them. In that case, this course will show you effective book(s) promotion ideas that will captivate your audience's interest to buy your book(s). Political candidates running for any public office will need to campaign to make their reason(s) for running for the public office known to the public. This also attracts the media as it concerns the public. As a political candidate, you will need to relate with the media to get massive recognition to increase your chances of winning an election. You will learn how to use the media to your advantage to maximize your chances of winning an election.
Government agencies and officials are held accountable by a more significant proportion of the public compared to officials in the private sector or non-profit organizations. Are you a government spokesperson who struggles to develop messages that are both comfortable for you and satisfying to the media and citizens? You will learn the techniques that you can use to come up with such messages. The course will teach you how to convey such messages compellingly, with many soundbites. Communication is vital no matter what work field you find yourself in. Communication improves the smooth and efficient running of an organization, facilitates coordination, boosts managerial efficiency and promotes cooperation and industrial peace. You will be taught how to be an effective communicator in the media with reference to the medical and financial fields.
A crisis is usually considered to be a crucial situation when one must make a decision. A crisis is also something that can happen at any moment in time. When a crisis hits an organization, it is enough to make a top-ranking person in that organization go blank on what next to do. We will show you the steps to take when a crisis hits. Furthermore, you will be taught the techniques you can use to develop a message for an interview in times of crisis, coupled with the Dos and Don'ts in times of crisis. Quotes in a story are significant since they focus your attention on expressing your message to the media in an interview. You will be shown how to identify the quotes used later in your story after an interview in times of crisis. During times of crisis, the questions that come from reporters can be difficult and brutal. You will learn how to answer 'brutal questions' from reporters without getting misquoted. You will also be taught how to rehearse your interview with your messages before the actual interview. This course is for beginners, professionals and experts in any field, including government officials. Procrastination is a thief of time. So without further ado, enrol and start this course today.
Start Course Now