Management Information Systems: Ethical Issues and Globalization
Learn about ethical issues in organizations and the globalization of information systems in this free online course.
Publisher:

NPTEL
This free online course will teach you about the various ethical, social, and security issues that organizations face, as well as various methods to address these issues. You will also learn how offshoring and shared services can help organizations cut costs while increasing work efficiency. You will be equipped with the necessary information and skills to manage ethical and social risks, as well as carry out global transitioning of businesses.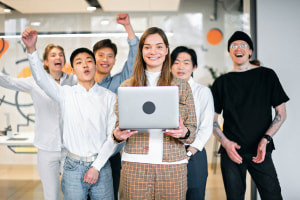 Duration

4-5 Hours

Accreditation

CPD
Description
With the ever-increasing use of information systems and globalization of businesses around the world, accessibility and availability of information have become too simplistic, and that has resulted in a significant increase in ethical and social issues. The Internet, digital technologies and global transitioning makes it easier than ever to gather, integrate, and distribute information, giving rise to new concerns about the appropriate use of personal information, privacy protection, and intellectual property protection. Another pressing ethical issue raised is the establishment of standards to safeguard system quality, which protects the safety of individuals, society, and businesses, both locally and on a global scale. This course will focus on the various ethical, social, security and privacy issues related to information systems. It also addresses the phases involved in the global transitioning of organizations. Ethics refers to the principles of right and wrong that individuals apply to make choices to guide their behaviour. The use of information systems in organizations has raised a number of ethical and security concerns, which must be addressed in order to avoid risks and financial losses. First, some key terminologies like profiling and the use of the NORA technology for gathering data about people from disparate sources will be introduced. Afterwards, various mechanisms like website registrations, cookies and malware that are used to collect information about people will be highlighted. Thereafter, some technical solutions including anti-spyware technologies, encryption, and others will be explained.
Organizations today face numerous security breaches as a result of weak security systems or improper management of organizational assets. Some recent security breaches that took place in international organizations will be highlighted in the next section of the course. You will also get to examine the various factors that motivate people and organizations to carry out security breaches. Malware is malicious external software that poses a threat to the security of organizations. You will get to understand how malware like viruses, worms, trojan horses pose a threat to a firm's assets as well as the various ways to avoid and mitigate them. Digital formats of Intellectual property face greater ethical threats as computerized information can be easily copied or distributed on networks. In order to manage and reduce intellectual property rights infringement, various copyright protection approaches are usually adopted. You will understand how these work and why it is important that individuals who possess some form of intellectual property, should protect them appropriately. In order to protect organizations against security breaches, technological measures are always not sufficient. Therefore, it is very important to have a comprehensive organizational approach to manage security, especially as all organizations tend to operate globally. Globalization is a process of business integration among people, companies and governments across the world. You will learn the major factors that are driving the internationalization of business in various sectors. The various challenges posed by global information systems and management solutions for these challenges will also be explained.
Critically planning and managing organizational strategies is crucial for organizations to grow and remain competitive in a global market. Organizational structures play a vital role in the formulation of these strategies. The three main kinds of organizational structure which are centralized, decentralized and coordinated structures will be outlined. Many organizations share services with other organizations to reduce costs, increase productivity and achieve better quality; such organizations are known as shared services organizations. The various key features or support provided by these organizations will then be outlined. As businesses grow, they expand and share their services globally and this process of transferring the knowledge and management of the IT systems from one organization to another is known as transitioning. The process of transitioning and the ten forces that flatten the world will then be presented. Implementing, maintaining, and updating information security is a significant challenge for any organization today. An organization can protect its information and technology by responding to, preventing, and detecting internal and external threats with the help of information security. In this age of globalization, the majority of organizations are transitioning to offshore services and operate globally. This course is suitable for both professionals in the profession as well as for people who want to learn more about information security and the globalization of organizations. Enrol now and take advantage of this versed course.
Start Course Now