Management Information Systems: Ethical Issues and Globalization
This free online management course takes you through the complex ethical issues facing globalized organizations.
Publisher:

NPTEL
This free online course explores various ethical, social and security issues facing organizations and explains how to address them. We show you how offshoring and shared services can let organizations cut costs while increasing work efficiency. This course helps you handle ethical and social risks as you take your business global and grounds philosophical questions in practical examples to put you on a management track.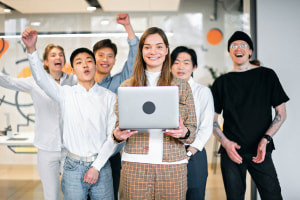 Duration

4-5 Hours

Accreditation

CPD
Description
With today's ever-increasing use of information systems amid the globalization of worldwide business, accessibility and availability of information have become too simplistic, which raises ethical and social issues. The Internet, digital technologies and globalization makes it easier than ever to gather, integrate and distribute information, giving rise to new concerns about the appropriate use of personal information, privacy protection and the preservation of intellectual property. We investigate the pressing ethical issues surrounding the establishment of standards to safeguard system quality, which protects the safety of individuals, society and businesses - both locally and on a global scale. This course picks apart the various ethical, social, security and privacy issues related to information systems. We unpack key terms like 'profiling' and demonstrate the use of 'non-obvious relationship awareness' (NORA) technology to gather personal data from disparate sources. We then examine how mechanisms like website registrations, cookies and malware can be used to collect such information. The course then provides some technical solutions to these measures, including anti-spyware technologies and encryption.
Organizations today face the danger of security breaches through weak security systems or improper management of assets. We highlight examples of recent security breaches and lay out the factors that motivate people and organizations to carry out such attacks. 'Malware' is malicious external software that poses a threat to security. We explain how malware like viruses, worms and trojan horses pose a threat to a firm's assets and provide various ways to avoid and mitigate their impact. Digital versions of intellectual property face greater ethical threats as computerized information can easily be copied or distributed through networks. We take you through the use and importance of copyright protection that can reduce piracy. Technological measures are not always sufficient to protect organizations against security breaches and it is very important to have a comprehensive organizational approach to manage security, especially when your organization operates globally. This course examines globalization and identifies the major factors that drive the internationalization of business across sectors. We discuss the challenges facing global information systems and provide their management solutions.
Organizations require critical planning and close management of strategies to grow and remain competitive in a global market. Internal structures play a vital role in the formulation of these strategies. We divide such structures into three main kinds: centralized, decentralized and coordinated. Many 'shared services' organizations share services with their peers to reduce costs, increase productivity and maintain quality. We outline the key support features provided by such bodies. As businesses grow, they expand and share their services globally. This process of transferring the knowledge and management of information technology systems from one organization to another is known as 'transitioning'. We go through this process and Thomas Friedman's 'ten forces that flatten the world'. Implementing, maintaining and updating information security presents a significant challenge to any organization as it seeks to protect its information and technology by responding to external threats. This course is suitable for those interested in the shifting ethical framework in which corporations now operate. It can also help anyone working in such an organization who wishes to take a management track and move upwards.
Start Course Now