Introduction to Web Development Processes and Server Setup
This free online course describes the processes related to web development, as well as types of web hosting packages.
Publisher:

YouAccel Training
The internet is a global tool used to share and gain information. If you are already familiar with using the internet, this course will take you from beginner to expert in building web applications and scripting languages. You will learn to integrate and administer MySQL databases in a web project, as well as the benefits of scaling server configurations. This course will also teach you about WAMP servers. Register now to improve your skills!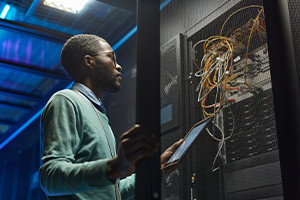 Duration

4-5 Hours

Accreditation

CPD
Description
Introduction to Web Development Processes and Server Setup is a free online course that has been specifically curated to take you from beginner to expert in building interactive mobile web applications. Also, if you are interested in starting a career in web development or an online business, this course is designed just for you. Before you venture into the world of web development, it is imperative that you have a fundamental understanding of how the internet works. You will be introduced to the concepts and functions of a data packet. Did you know that there are three elements of a data packet? Prepare yourself to learn about their functions, along with their differences. You will also be introduced to the functions HTTP and HTTPS protocols.

DNS is also an important concept to understand in this course. You will learn about its role in translating a web address into a numerical IP address. The SMTP protocol is another type of protocol that you will study in this course. You will be able to explain its functions in email management. LAN and WAN play an important role in covering small and large network areas respectively. A network router facilitates the movement of data networks within both local and wide area networks. You will acquire knowledge on the uses of ports. Firewalls help in protecting network security. Examine the features and types of firewalls. Are you aware that there are 12 steps involved in the web development process? To help you understand them extensively, this course will provide detailed information on each step.
Furthermore, you will learn about the types of web hosting solutions. There are several factors to consider when selecting your preferred hosting solution. This course will provide in depth information about these factors. You will examine the differences between traditional web hosting packages and cloud hosting services. Domain names help to build brand awareness. You will become familiar with creating domain names, as well as the processes of domain registration. Setting up a testing server prevents issues from arising on your production server. Some scripting languages require a testing server to function while some do not. You will be able to analyze these languages and describe their features. This course will be of great interest to students, researchers, professionals, web developers, business enthusiasts and anyone with an interest in understanding web development processes and server setup. So, register for this course and start your next learning journey today.
Start Course Now