Essentials of Android Developer: GitHub
This free online course examines the basics of git, android constraint layout and the methods in the activity lifecycle.
Publisher:

YouAccel Training
Essentials of Android Developer: GitHub is a free online course that identifies the benefits of working with version control, the problems it solves and how to use version control effectively. There are different types of version control. However, for the purpose of this course, we will focus on Git. GitHub makes the administration of the Git repository easy. You will be taken through setting up a Github account and using Git with Android studio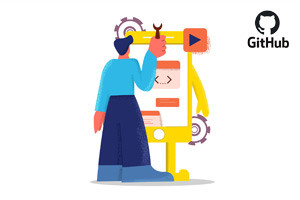 Duration

4-5 Hours

Accreditation

CPD
Description
Git is an open-source distributed version control system that handles projects. It has a remote and local repository which are stored in the server and computer of each developer. Git has become a widely accepted concept that every programmer needs to implement. It is a popular version control system (VCS). This free online course on essentials of Android developer: GitHub, will take you through using effectively version control. And tracking of your updated or outdated codes as well as the configuration of files using Git. It describes how to set up a Github account, generate a new SSH key and create repositories to store codes. It also identifies reverting back to old files, maintaining codes within teams and other problems solved by version control. This course demonstrates how having a working knowledge of a version control system (VCS) like Git can save the day in emergency situations or when debugging. Some projects have multiple developers working in parallel, so the version control systems like git are needed to ensure there are no conflicts. By the end of this course, you will be able to store your code's history in Git, identify the causes of a merge conflict and handle merge conflict.
Tools in Android studio allow the functions of Gits, therefore it is important to understand the android constraint layout system and the android activity lifecycle. The Activity class is an important part of an application's lifecycle, and the way activities are launched and put together is a key part of the application model. What is an activity? It is simply a single, focused task that the user can do. Almost all activities interact with users. If you want to get detailed knowledge on the structure of an Android application and the different actions that are carried out in the activity lifecycle, this course comes highly recommended. This course distinguishes the different types of intent and explores the effective use of intent as well as context. It illustrates how to extract string resources and inherit base activities.
Furthermore, this course explains Kotlin android toasts, adding of extras to intents and class parcelable. It describes an instance state, working with different data structures as well as singleton patterns in Android studio. An Adapter object acts as a bridge between an adapter view and the underlying data for that view. The Adapter also provides access to the data items. You will learn how to initialize an array adapter, create custom adapters and present data in a list view. The section that follows analyzes the product recycler adapters, creating a product list view as well as the conversation of a recycler view adapter. The learning contents in this course is crucial for the use and interaction of Github as well as collaboration with other programmers through remote repositories. If you are a student, researcher, developer or anyone with an interest in understanding why version control is a fundamental tool for coding and collaboration. You should register for this course and start your next learning journey.
Start Course Now