Fundamentals of Ruby on Rails 5 Development
This free online course examines how to deploy a Rails application, and using multiple layouts on a Rails application.
Publisher:

YouAccel Training
This course describes the different types of applications that can be developed using Ruby on Rails. You will learn how to deploy a Rails application with open source tools. You will also learn how to implement advanced JavaScript components, such as persistent drag and drop functionality and live page updates in a Rails application. By the end of the course, you will be able to build a Ruby on Rails application.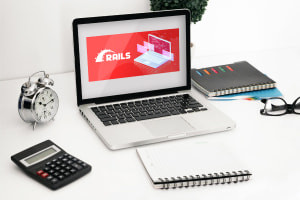 Duration

4-5 Hours

Accreditation

CPD
Description
This free online course on Ruby on Rails has been developed to give you all the basic knowledge you need to become a top Ruby on Rails developer. You will study the Bootstrap framework and standard integration methods used in Rails development. The course introduces you to basic skills in Javascript, frontend development, SQL database management, and machine learning. Rails applications can be built using different layouts. This course captures how to build a Rails application using a single layout and multiple layouts. You will learn how to integrate security components into any Rails application and access levels for administrators and regular users. Ruby on Rails is quite rich and robust, and it allows you as a developer to write blog posts. You will study how to write blog posts and how to integrate codes into your blog posts. You will also study the environment configuration and the installation required to run a Ruby on Rails application. You will discuss database relationships and how multiple data can be nested in them. You will also discuss how to view all the data associated with a relational database during development with Ruby on Rails.
A fascinating component of Ruby on Rails that is covered in this course is Action cable. Action cable allows you to have real-time updates. You will be introduced to OpenURL and how it works with Ruby during a page request. You will study how the component, Active Resource, is used in setting up and pulling REST-based resources. Do you know that the Rest-Client gem contains an easy way to connect with RESTful web services? You will study how the REST client enables connection with the Ruby on Rails framework. Comments and reactions which are standard features in social media applications like Facebook and Twitter can also be integrated into Rails. Rails generators that allow you to build an app automatically are getting important by the day. This course will teach you how to use a Rails generator to build an app from scratch. Have you ever heard of scaffolding in programming? This course will teach you how to use scaffolding to develop unique features in Ruby on Rails. This course also discusses version controls and the methods used by Rails developers to include versions in their codes.
This course also describes how you can leverage components that are specific to Rails in building some standard multimedia functionalities. One of the most common features developers get asked to build by clients is a drag and drop interface. The course describes how to use industry-standard practices to develop different interfaces, including administrative and user interfaces. Another quite exciting aspect covered in this course is the relationship between frontend and backend components. You will learn how to build an advanced permission structure in Rails. A lot of actions occur behind the scenes on applications powered by rails. You will learn how to work with sessions and add query parameters in Ruby. When it comes to learning Ruby on Rails, it is always quite helpful to isolate the different components to see how the components work together. This course explains how the isolation of components is helpful during the debugging process on the Ruby on Rails application. Do you want to learn how to build professional-grade Ruby on Rails applications? Do you want to learn advanced features specific to the latest Ruby on Rails versions? Then, register for this course today!
Start Course Now