Introduction to Programming through C++
Learn about C++ syntax, commands, data types, and how to effectively develop C++ programs from this free online course.
Publisher:

NPTEL
'Introduction to Programming through C++' is a free online course that offers a guide to a foundational understanding of C++ syntax and program design. Learn about C++ commands for mathematical operations and the typical development strategy for programs. You will also study C++ data types, reassignment of variables, and the functions of Simplecpp Graphics. Register for this course today, and take your C++ programming skills to the next level.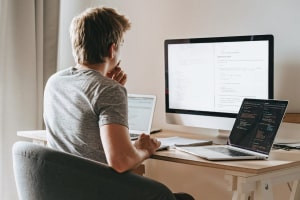 Duration

4-5 Hours

Accreditation

CPD
Description
Learn how to solve real-life problems using computers as well as how to debug programs in this free introductory course to programming with C++. The material kicks off with a useful guide to C++ commands for mathematical calculations and their syntax notations.
Next, you will analyze how to solve problems in computers using number sequences, algorithms, and programs. You will also learn about the overall computer organization and how numbers are represented digitally. Go on to discuss machine language instructions and various operations and operation codes in C++ before analyzing data types, variables, assignment statements and the rules of expressions. Furthermore, the course will highlight the reassignment of variables and how definitions in blocks are executed. You will also take a look at the typical program development strategy and the debugging process, before studying the possibilities of Simplecpp Graphics in C++.
This free online course provides a rich learning experience with a simple guide to the basics of C++ syntax and commands and program design. It will be of significant interest to aspiring programmers and developers, and anyone with an interest in gaining a solid foundational knowledge of C++ programming.
Start Course Now