Introduction to HTML Structures in Website Development
This free online course examines how to develop HTML forms on a website, as well as integrate animations into the forms.
Publisher:

YouAccel Training
Get to grips with HTML with this free online HTML tutorial where you will be introduced to the many structures included in HTML and some industry best practices as well. Along with HTML basics, you will learn all about the methods used to develop HTML forms on a website and integrate animations into the forms, web styling principles and techniques as well as the importance of media queries and how they can be added to an HTML form.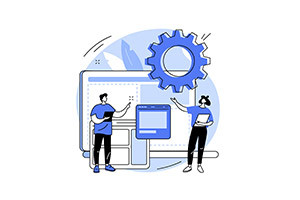 Duration

3-4 Hours

Accreditation

CPD
Description
If you think of your favourite websites - what stands out and why? Is it the navigation and how easily things are found? This all boils down to website structure and this free online HTML certification will help you in understanding best practices for HTML structures and how to achieve them with the skills learnt in this course. Some of your initial learning includes the process of building a footer structure, web styling using cascading style sheets (CSS) and how to control images and styling in CSS. You will also explore basics HTML tags such as div and span tags and how they can be used interchangeably as well as links-wrapper tags and the relationship this has with navigation links. You will then move on to learning the process of creating and positioning social media icons and the use of the HTML entity property tag to input special characters on a web page.
Next in this HTML guide is learning about some popular symbols used in structuring a website, including financial symbols, ampersands, and equality symbols. Flexbox is the next key theme in the course content and you will discuss how to style the footer using the flex-direction attribute and methods used in managing the different elements inside of a Flexbox. Do you know that there are some styles in CSS that are always relevant during website development? You will discuss common CSS styles that can be factored into the development of a website and how CSS is used to alter image displays such as brightness, filters, and opacity. The concept of baseline styles in HTML can be very useful in an efficient web development process because many styles are applied throughout a website. How to create and apply these baselines to the navigation, footer, and other elements is comprehensively discussed.
There are many other very important topics covered in this HTML form tutorial and these include how to create forms, apply animation to forms, the button element, layouts and much more. Programming skills can set you apart in the marketplace because the principles are universal. If you have always been interested in the inner-workings of HTML as a programming professional or if you want to take coding up as a hobby and want to learn about HTML structures for your part-time projects, then enrol in this in-depth, easy-to-understand HTML course and enhance your technical knowledge of web development and HTML.
Start Course Now